Free Download Axure RP 9 - Software for creating prototypes and specifications for websites and applications such as resizing and formatting widget
Overview of Axure RP 9:
Axure RP - Create simple click-through diagrams or highly functional, rich prototypes with conditional logic, dynamic content, animations, math functions, and data-driven interactions without writing a single line of code. Axure RP will publish your diagrams and prototypes to Axure Share on the cloud or on-premises. Just send a link (and password) and others can view your project in a browser. On mobile devices, use a browser or the Axure Share App for iOS and Android.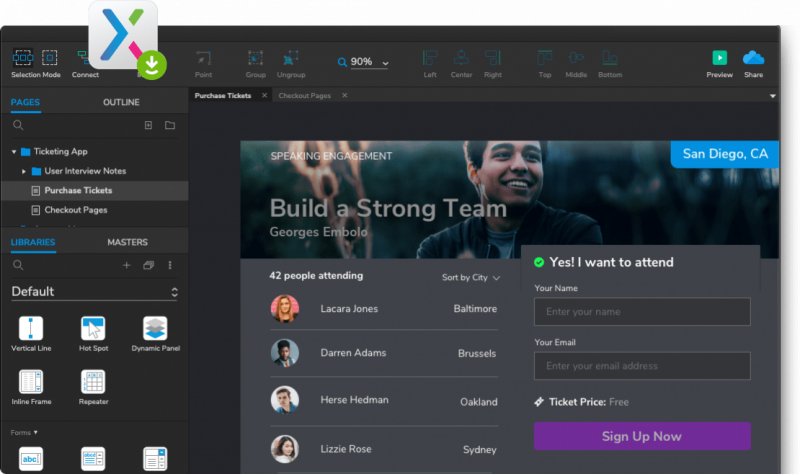 Create flowcharts, wireframes, mockups, user journeys, personas, idea boards and more. Quickly drag and drop elements from built-in or custom libraries to create your diagrams. Then, style it with fills, gradients, line styles, and text formatting. Annotate your diagrams and prototypes to specify functionality, keep track of tasks, or store project information. Organize your notes into separate fields for different audiences. Choose which notes to present in the HTML or in an auto-generated Word document that includes screenshots.
Axure RP allows multiple people to work on the same file at the same time, making it easier for your team to work together. Create a team project on Axure share or SVN and use a check-in and check-out system to manage changes. Team projects also keep a history of changes with notes for each check-in.
Overview of Axure RP 9
Easily share Axure RP prototypes and Sketch artboards and gather feedback on top of your screens.
Inspect layout, get CSS snippets, and download assets.
Get notifications about the latest changes and discussions by email, Slack, or Microsoft Teams.
Create Team projects so multiple users can make diagrams, build prototypes, and explore designs in a single Axure RP file at the same time.
Quickly turn static images into interactive prototypes in Axure Cloud.
System Requirements for Axure RP
Supported OS: Windows 7/8/10
Processor: Pentium IV or above
RAM: 1 GB RAM
Free Hard Disk Space: 200 MB or more