Free Download Alt-Tab Terminator 4 - Enhances the default Windows ALT-Tab functionality by allowing a perfect replacement monitor to preview and manage App
Overview of Alt-Tab Terminator 4: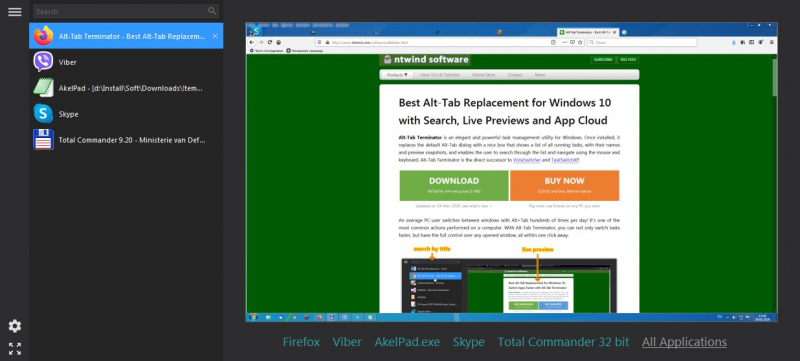 Alt-Tab Terminator is a sleek utility designed to enhance the default Windows ALT-Tab functionality by enabling a replacement screen that is perfect for previewing and managing running applications. The goal of the Alt-Tab Terminator is to provide you with more control over previewing windows. Now, this is simple enough to perform through the default ALT-tab process, but it is quite limited in scope due to the simple dialog provided. Enter Alt-Tab Terminator, which will replace your machine's default with enhanced task management capable preview window. Additionally, it can also be set up to replace the Win-Tab key combo used for hopping between your various tasks on multiple desktops. It can also display a preview of the entire desktop as well as the name of the application.
Alt-Tab Terminator places all your opened windows inside a tidy task list that will allow you to navigate more efficiently through your keyboard's dedicated keys. A few minor personalization settings can be utilized, like the color scheme and compact/full-screen modes, depending on your preferences.
Alt-Tab Terminator Features:
Task Preview: Visualization is the key point. Alt-Tab Terminator shows you the exact live desktop preview of the application you want to switch to, even if it has multiple child windows.
Quick & Easy Navigation: Navigate through the task list with the keyboard (Tab, Arrow Keys, Home, End, etc.) or the mouse – place the mouse pointer over a task or use the mouse wheel.
Clear Large Labels: Multiple window titles are arranged on a vertical task list; a large icon is placed by each one of them. Finding the right window has become much quicker.
Technical Details and System Requirements
Supported OS: Windows 7/8/10
Processor: Pentium IV or higher
RAM: 1 GB RAM
Free Hard Disk Space: 50 MB or more.