Free Download K-Lite Codec Pack Full 15 - Codecs and DirectShow filters are needed for encoding and decoding audio and video formats
Overview of K-Lite Codec Pack Full 15: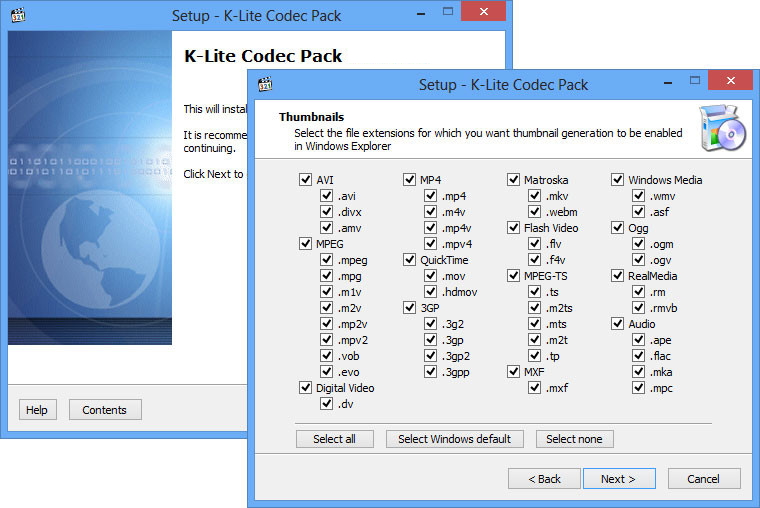 K-Lite Codec Pack is a collection of DirectShow filters, VFW/ACM codecs, and tools. Codecs and DirectShow filters are needed for encoding and decoding audio and video formats. The K-Lite Codec Pack is designed as a user-friendly solution for playing all your audio and movie files. With the K-Lite Codec Pack you should be able to play all the popular audio and video formats and even several less common formats.
Some codec packs are far from being friendly with computers, as they tend to slow down Windows, break down multimedia files and make the whole movie watching experience a nuisance. This is why an efficient software has to be chosen, one that does exactly what it is supposed to without additional and unnecessary features.
Most effective codec pack:
This is one of the most efficient codec packs out there that is not only delivered as a very light package but is also impressively friendly with computer resources.
K-Lite has numerous advanced customization options but novices are advised not to spend too much time on this section, as they might erroneously modify some options and break the entire process.
Furthermore, before going through the step-by-step thorough setup process, one gains access to a list that displays content, along with several details regarding each of the codecs, to give users a glimpse of what they are about to deploy.
Features of K-Lite Codec Pack 15:
All included components have been carefully selected by codec experts.
It contains everything you need to play all your movies and music.
This pack has a huge user base. This means that problems are found and resolved quickly.
Contains both 32-bit and 64-bit codecs.
The installation is fully customizable. You can choose which components you want to install.
There are different variants of the pack. From small to large. You can pick the one that fits your needs.
Installation is simpler, quicker, and more organized.
More configuration options during installation. This is particularly useful for unattended installs.
It includes DivX, Xvid, x264, MPEG 1/2,MP3, Monkey`s Audio,Media Player Classic, On2 V6/V7 and many others.
The pack includes very useful tools for managing and configuring the installed codecs.
K-Lite Codec Pack also provides access to configuration options for each codec whenever available.
System Requirements:
Supported OS: Windows 7/8/10
Processor: Pentium IV or above
RAM: 1 GB RAM
Free Hard Disk Space: 200 MB or more.