Free Download Mipony Pro 3 - Download manager that gives you access to content on a wide variety of sites, so you can save it to your computer
Overview of Mipony Pro 3:
Mipony Pro is a download manager that gives you access to content on a wide variety of sites, so you can save it to your computer or mobile device. Through the app's intuitive interface and built-in browser, you can quickly find the items you're looking for and begin the downloading process.
Mipony can easily capture download links of today's online file sharing services. In addition, this download tool can download multiple files at the same time. This software also integrates support resume download feature if you have problems with reuse or any problems. In addition, Mipony also has a mechanism to automatically capture links without having to access the web.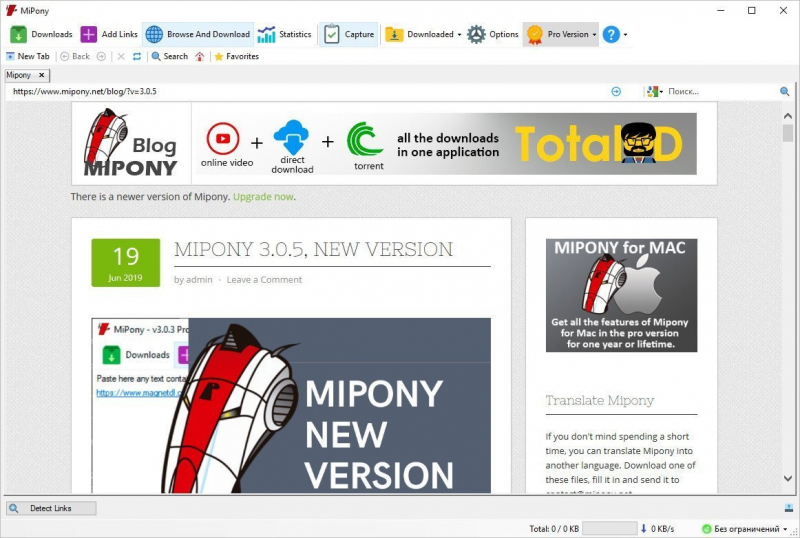 In addition, Mipony also has the feature to automatically update new versions. After completing the update process, you will not have to restart your computer, but use it normally. Mipony also supports many popular languages ​​today. When installing the software, it will automatically install the language suitable for your computer.
Overview of Mipony Pro 3 Features
Support to download files easily with high speed.
Integrated search engine.
Support Resume download.
Has function to manage downloaded files
Compatible with most Windows products
Continuous download with Mipony Pro
Once the link has been added to the download list, the files will be downloaded while you navigate and if you close the download program, the downloads will be restarted when you start the program again.
Possibility to give priority to files in the waiting list
Control how many files can be downloaded simultaneously from each server..
Many of the files hosted in free servers are divided into parts, Mipony has the option to join the downloaded files (HJSplit).
Mipony can capture from the clipboard individual links or any text that contains any number of links.
With this plugin, you will have access to the captchas decoding system developed by captchatrader.com. CaptchaTrader solve captchas for you so you don't have to. If you earn credits by solving captchas then you can spend them later when you need them.
System Requirements for Mipony Pro
Supported OS: Windows 7/8/10
Free Hard Disk Space: 200 MB or more