Free Download R-Wipe & Clean 20 - Delete useless files, free up your drive space and clean up various privacy-infringing information
Overview of R-Wipe & Clean 20: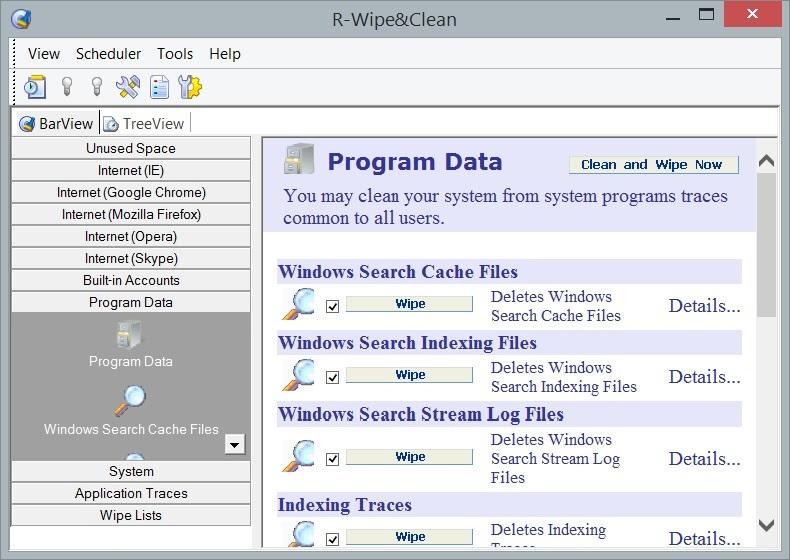 R-Wipe and Clean is a complete R-Tools solution to remove useless files, free up your disk space, and clean various privacy-compromising information on your online and offline activity. This includes internet history and cookies, lists of downloaded files and opened documents, various data caches, temporary files, and many more items, created by the operating system, most contemporary internet browsers and communication programs.
After launching this program, it will help you permanently remove all kinds of temporary Internet files, the history of the pages you are viewing will be deleted, cookies will also be deleted, if there are auto-filling of the forms. Patterns and passwords are different, they are also deleted, and the list of recently opened documents is also deleted. file swapping, all temporary file types, etc.
Ability to clean the computer:
Traces Selection helper: a tool to quickly select some of the most common traces to clean.
Cleaning Internet activity: removing traces from most contemporary browsers and communication programs.
Cleaning personal traces: removing various lists, logs, caches, temporary files, and other traces of your activity.
Cleaning system traces: removing registry traces, temp files, system history, and various log files.
Cleaning traces from various third-party programs: removing various caches, logs, temporary files, recent file lists, and other traces left by applications.
Cleaning can be performed as a background task and computer can be turn off upon its completion.
Advanced features of R-Wipe and Clean 20:
Detailed representation of all trace items on your computer.
Detailed logging of all wipe and clean operations.
Customization: R-Wipe and Clean can hide those items you will never want to clean.
Full system integration: Most wipe and clean operations can be performed directly from Windows.
Password protection.
R-Wipe and Clean Smart: an advanced tool to create and manage very complex wipe lists.
Cleaning and wiping task can be started from a command line.
Boss Key to close a web-browser in emergency.
Stealth mode to hide computer cleaning.
Standby/hibernate control: Your computer will not hibernate until R-Wipe and Clean finishes its long job.
Startup Renaming for files/folders locked by Windows and other programs. They will be renamed and cleaned during the next start-up.
System Requirements and Technical Details
Supported OS: Windows 7/8/10
Processor: Pentium IV or above
RAM: 1 GB RAM (2 GB recommended)
Free Hard Disk Space: 200 MB or more.