Free Download Total Uninstaller 3 - This utility will display a list of all installed applications and allow you to choose which one you want to remove
Overview of Total Uninstaller 3: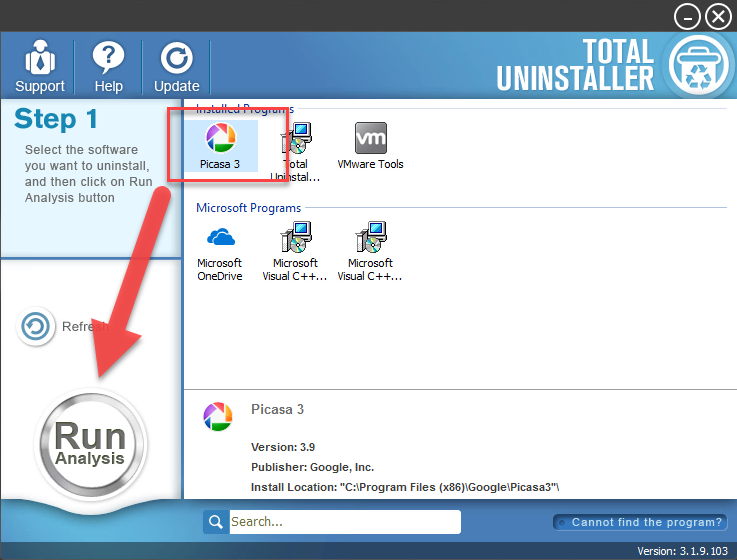 This utility will display a list of all installed applications and allow you to choose which one you want to remove. Before the removal process, Total Uninstall will analyze the composition of the selected item so that all files stored in it can be easily deleted. Simply select from the list of applications that you want to remove. After a few seconds, Total Uninstaller computer utility will analyze it and display the detected files, folders, registry keys in a tree diagram. You can review the details and remove detected items. Total Uninstall will be ready to remove any programs analyzed. First, it will use the built-in Add / Remove program and continue to remove leftover entries using the log file.
Main features of Total Uninstaller 3:
Automatic Scan: Advanced algorithm with the removal tool can scan out all associated files with the unwanted program
Check Leftovers: Leftovers scanning and removal feature will be provided after performing a standard removal for the application
Complete Removal: Stubborn files can be removed more easily and thoroughly via the uninstaller's advanced algorithm and powerful removal.
Cannot find the program: Corrupted program or incomplete removal can also be cleaned out via the feature at the bottom of the uninstaller.
Total Uninstaller has 2 modes to uninstall applications:
Installed Programs: With this mode, users can analyze built-in presets, then create a log file to record any changes to it. It even helps to remove the program without using the Add / Remove Programs feature built into Windows.
Monitored Programs: This module helps the user to monitor any changes made to the system during the installation of a new program. It allows you to perform a complete uninstall without relying on the built-in uninstaller which often leaves files behind.
Other features:
Accurately analyze presets and create log files to record any changes to them.
Monitor every change from registry and file system to new installers.
Completely uninstall of programs that are analyzed or monitored.
Make a backup of the program and restore it from that backup.
Arrange programs to be installed or monitored in groups.
Searching for the program to remove using keywords is very quick and easy.
Provides summary tables and details for each installed or monitored program.
Customize the user view to track detected changes.
Displays a log file of detailed application removal progress.
The function of finding every change is found very powerful.
Notice about running installed programs.
Export any changes made to the registry for installation or removal.
Export the list of installed or monitored programs to a file.
Export to a file or print the detected changes.
Move programs from one computer to another.
Added Chinese, Polish and Indonesian support.
Integrate a database of fake uninstallers to avoid using them and installing additional unwanted software.
Integrated French help file. Use the F1 key to open the current document.
System Requirements:
Supported OS: Windows 7/8/10
Processor: Pentium IV or higher
RAM: 1 GB RAM (2 GB recommended)
Free Hard Disk Space: 50 MB or more.