Free Download FolderSizes Enterprise 9 - The most powerful disk space analyzer ever created. You can use it to analyze any type of storage device
Overview of FolderSizes Enterprise 9:
FolderSizes is, quite simply, the most powerful disk space analyzer ever created. You can use it to analyze any type of storage device that's accessible to the host computer – local disks, network attached storage, network shares, mapped drives, and more. FolderSizes goes far beyond the capabilities of competing solutions by combining several tools into one: Disk Space Explorer - Awesome detail view, coupled with stunning graphical bar and pie graphs Duplicate File Report - Quickly isolate and manage duplicate files within any folder or volume Largest Files Report - FolderSizes can quickly show you which files are eating up the most space Oldest Files Report - Use your own criteria to find old files that may no longer be needed Temporary File Report - Eliminate temp file clutter left over from software installs, downloads, browsing, etc. File Owners Report - Discover which users are consuming the most space on local and network drives File Types & Attributes Reports - See the distribution of disk space by file type or attributes Drive Space Monitor - Instant, at-a-glance view of any local, mapped, or removable disk File Sizes, Names & Dates Reports...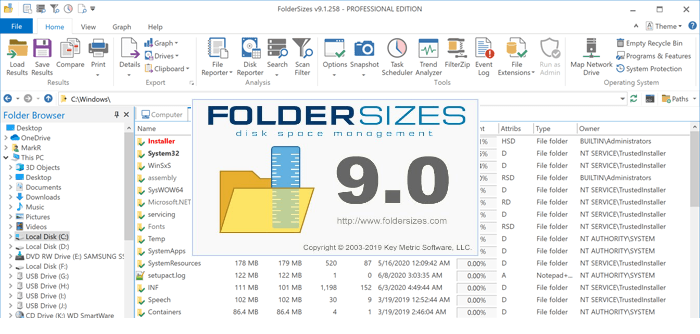 Features of FolderSizes 9
Unicode file and folder name support
Interactive, dynamic, full-color bar and pie graphs
Fast, multi-threaded, network-aware file system scanning
Isolate largest, oldest, duplicate, and temporary files
View disk space utilization by file type / attributes
View local & network disk space usage by owner / group
Command line interface for scripting & integration
FilterZip regular-expression based compression system
See total & free space for fixed, removable, network drives
Export reports in HTML, XML (Pro edition only), CSV, and more
Integrates with the Windows shell context menu (32 and 64 bit support!)
Extremely configurable – colors, fonts, print options, etc.
Flexible, multi-path oriented search and file reporting systems
Strong support for viewing allocated disk space (e.g. "size on disk").
System Requirements:
OS: Windows XP/7/8/10
Processor: Pentium IV or higher
RAM: 1 GB RAM (2 GB recommended)
Free Hard Disk Space: 100 MB or more