Free Download Advanced SystemCare Pro 14 - PC optimization utility to help users discover, clean, repair, speed up PC and protect privacy while browsing the Web
Overview of Advanced SystemCare Pro 14: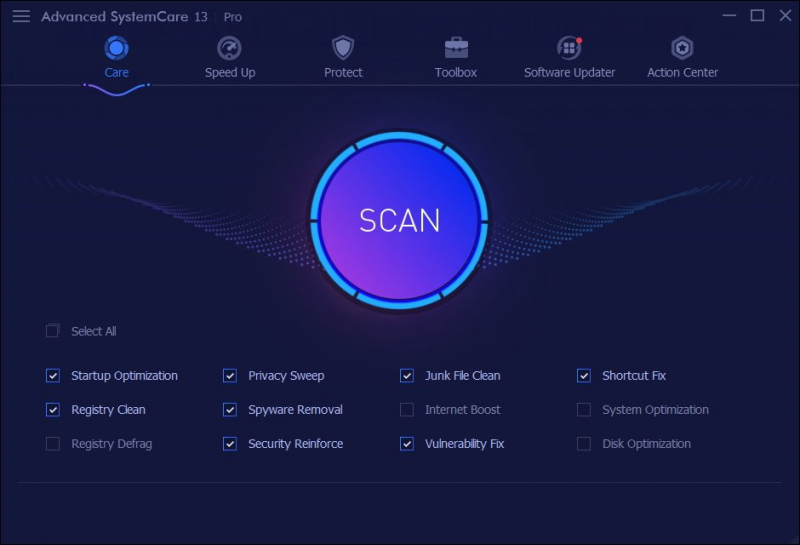 Advanced SystemCare Pro provides an always-on, automated, the all-in-one PC optimization utility, specializes in ONE-Click solutions to detect, clean, repair, speed up and eventually protect PC. To better protect users online privacy with Advanced SystemCare, Protect tab is newly added, which is designed to provide quick access to protect browsing frombeing tracked by automatically cleaning privacy traces once browser closed and detect and resist the attack of malicious plugin/toolbar by Browser Anti-Tracking and Plugin/Toolbar Cleaner in this tab.
Computer optimization tools are in Advanced SystemCare 13:
IObit Advanced SystemCare has the New Performance Monitor, that can release memory by one click to smooth PC running within seconds. Toolbox is always offering effective tools, such as new Startup Manager, a 1-click solution to conspicuously diminish system startup time by optimizing unnecessary Startup and Service. In most of old and slow PCs, there might be lots of troubles to slow them down. Equipped with Advanced SystemCare, your PC will stay error-free and smoother than ever.
Advanced SystemCare Pro in real-time protects against malicious programs like spyware and ransomware, attacks carried out via DNS, tracking user's activities on the Web through cookies and ads, and blocks websites suspected of phishing and similar Internet threats. In addition, the program allows you to block pop-ups in browsers and forced by external programs to change the home page, which guarantees safe and comfortable browsing the Web.
Features of IObit Advanced SystemCare 13 Pro:
Basic PC cleaning and optimization
Premium PC cleaning and optimization
Deep clean registry to prevent system crash
Defrag hard drive data to optimize PC performance
Auto RAM clean to stop unused programs and processes
Auto care for PC as scheduled
Monitor system condition in real time
Up to 200% quicker PC startup
Up to 300% Internet speedup with Internet Booster
Basic PC protection with spyware removal
Full PC protection for detecting and removing deepest infections
Capture intruders automatically with FaceID
Premium surfing protection with automatically clear tracking data
Disguise digital fingerprint to keep online behaviour private
Keep your personal data away from untrusted programs
Proactively detect and block security holes in real time.
Other benefits of Advanced SystemCare:
Keeps your PC running at peak performance. Fully optimizes Windows for ultimate system performance and top Internet speed. It turns your PC into a business PC, a productive workstation, an entertainment center, a game machine, or a scientific computing PC.
Defends PC security with extra protection. Detects and analyzes Windows security environment. Scans and removes spyware and adware using up-to-date definition files. In conclusion, it prevent spyware, hackers and hijackers from installing malicious programs on your computer. Erases and updates your PC's activity histories.
One click to solve as many as 10 common PC problems. With one click, it scans and repairs ten PC problems and protects your PC from hidden security threats.
Real-time optimization with ActiveBoost function. This technology actively runs in the background intelligently managing system resources in real-time. And constantly detects inactive resources and optimizes CPU and RAM usage.
Cloud technology to keep database up-to-date. The new "Cloud" technology ensures the database is kept updated at all times. So that you can benefit from the latest definitions and configurations.
More than 20 dedicated smart tools. The Toolbox feature has tools for system cleaning, optimizing and repairing, tools for security enhancement. Also the tools for full control over the PC system.
System Requirements:
OS: Windows 7/8/10
Processor: Pentium IV or higher
RAM: 1 GB RAM (2 GB recommended)
Free Hard Disk Space: 200 MB or more.