Free Download Daum PotPlayer - Comprehensive freeware video and audio player, that also supports TV channels, subtitles and skins
Overview of Daum PotPlayer:
PotPlayer is a comprehensive freeware video and audio player, that also supports TV channels, subtitles and skins. Done by the same Korean author as The KMPlayer. It works w/ madVR/HR/EVR and Reclock of course…it's a much improved/faster version of KMPlayer, including ffdshow and some other stuff to connect to a Korean-only video/chat network. Plenty of features and rich customization. It gives its users great control over its functions, allowing modification of the video speed, adjusting the audio volume, decrease or increase contrast and brightness. Also, several skins are available so that users can match the appearance of their video player to the theme of their OS. Player contains internal codecs and there is no need to install codecs manually.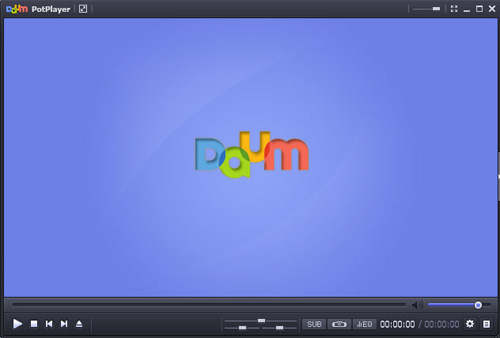 Visually appealing and easy to use:
The setup process guides you through a series of steps, which take very little of your time. Additional codecs are installed only if these are missing from your computer and not without your consent. However, codecs and encoders can also be configured through the application's preferences panel.
Running it unveils a pretty interface, with elements reduced to a minimum, yet managing to include all necessary playback options, volume slider and a decent, resizable preview section. A playlist can be toggled on, as well as a control panel, with the possibility to stick them to the main window and move around the desktop as a group.
Supporting a large variety of formats:
Adding a media file is no rocket science, and barely requires you to drag desired items either over the playlist or the preview section. Lists can be easily saved and loaded when needed, as well as importing already existing ones. You need not worry whether or not the application is capable of opening a certain file, as it supports nearly all available formats. Ranging from AVI, WMV, MP4, 3GP, FLV, MKV in the video category, to MP3, WAV, FLAC, AAC, APE for music, and even commonly used playlists, tha application is sure to satisfy any requirement. The actual list of supported formats is considerably larger than the few mentioned examples.
Enhance audio and video experience:
The application puts several tools at your disposal in order to fully enjoy clips or songs. A control panel lets you carefully adjust several frequency sliders or put presets to good use, to get the most out of the audio. Moreover, your custom configurations can be saved for later use. Furthermore, you can adjust a few color related sliders to correct any errors in a video or make it suitable to your liking. Subtitles can also be inserted and placed at a custom position, while an integrated function lets you take snapshots of desired frames.In conclusion.
Taking everything into consideration, we can say that PotPlayer is worth at least a try. The interface is extremely minimalistic, letting even the most inexperienced accommodate in a jiffy. However, it's packed with rich features under the hood, coming in handy even to pro users. It might just convince you to keep it around for a long time.
System Requirements:
OS: Windows 7/8/10
Processor: Pentium IV or higher
RAM: 1 GB RAM (2 GB recommended)
Free Hard Disk Space: 200 MB or more.