Free Download DVDFab VideoCruise - Free Download DVDFab VideoCruise full version standalone offline installer for Windows, it is an advanced video editing
Overview of DVDFab VideoCruise: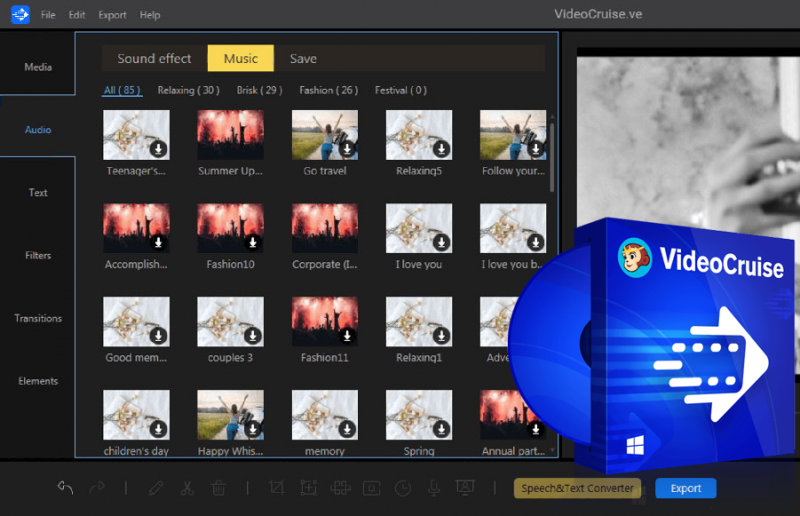 VideoCruise is a video editor that you have never seen before. With the emphasis on the creative process, VideoCruise allows you to bring imagination to your life, giving you a space to experiment with ideas and have fun trying different things. We believe that with the right tools anyone can innovate, and in order to create the perfect tools for you, we are convinced that VideoCruise is simple enough for even a beginner, and at the same time powerful enough for just about filmmakers.
VideoCruise has many modern Video editing tools:
Using powerful tools allow you to create the most advanced video projects through the simplicity of easy to use functions. With these features, video projects can be created to meet your individual needs. Plan your project with creative control over everything you need.
Features of VideoCruise:
Cut longer video clips into smaller clips, remove unwanted portions keeping only what you like, the choice is yours.
Crop your video or image so that only a segment of the original image appears in the final video.
Reverse and mirror videos, including webcam recordings, both horizontally and vertically.
Rotate videos clockwise or counterclockwise 90 and 180 degrees.
Keep what you expect in your final video by setting the video length, without having to remove clips.
Adjust video or audio speed from 0.2x to 5x to create special effects.
Supported Formats and Devices:
Supported Image Formats: bmp, jpg, png, gif, tif, heic and more.
Supported Video/Audio Formats:
Video - avi, mpeg, wmv, mp4, mov and a lot more.
Audio - wav, mp3, m4a, mid, flac, aac, wma, au, aiff, ogg and a lot more.
Supported Devices:
Portable devices: Apple, Samsung, HTC, SanDisk, Sony, LG, Huawei, BlackBerry, Amazon, etc.
Windows Media Player 11 or higher for WMV video playback.
DirectX: Microsoft DirectX 9.0c or later.
System Required:
Windows 10 / 8.1 / 8/7 (32/64 bit)
Intel i3 or higher
2GB RAM or higher
10 GB of free hard disk space or more
Internet connection required for product activation and template / resource / plugin download.