Free Download TeamViewer 15 - Remote control, desktop sharing and file transfer that works behind any firewall and NAT proxy
Overview of TeamViewer 15: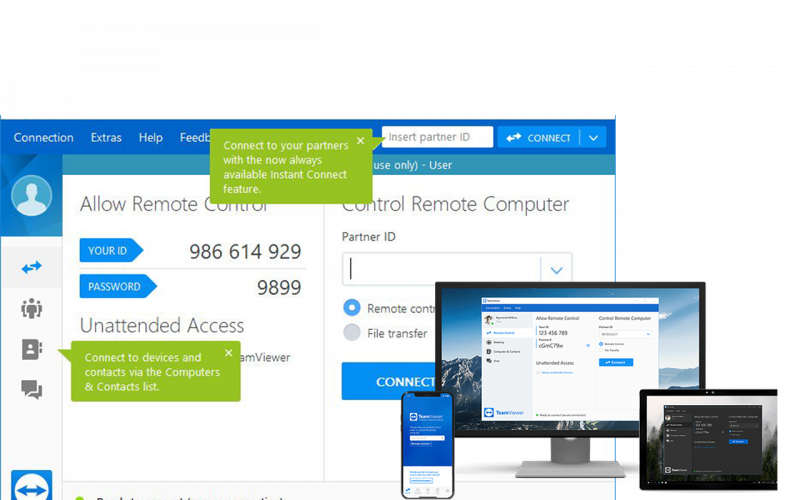 TeamViewer is a simple and fast solution for remote control, desktop sharing and file transfer that works behind any firewall and NAT proxy. To connect to another computer just run TeamViewer on both machines without the need of an installation procedure. With the first start automatic partner IDs are generated on both computers.
Enter your partner's ID into TeamViewer and the connection is established immediately. With many thousand users worldwide TeamViewer is a standard tool to give support and assistance to people in remote locations. The software can also be used for presentations, where you can show your own desktop to a partner. This application also is VNC compatible and offers secure, encrypted data transfer with maximum security.
TeamViewer establishes connections to any PC all around the world within just a few seconds. You can remote control your partner's PC as if you were sitting in right front of it. TeamViewer is completely free for private use.
Features of TeamViewer 15:
Remote Device Control
Cross-Platform Access
VPN Alternative
Mobile Device Access
Secure Unattended Access
iOS Screen Sharing
Flexible File Sharing Options
Remote Printing
4K Remote Desktop Access
Multi-Language Support
Hardware and Software Integration.
A solution to manage and access remote computers:
The application is the one-stop solution for everything you need: includes all modules in one simple and very affordable package.
TeamViewer can also be used to control unattended computers and servers. Installation as a system service even allows remote reboot and reconnect.
TeamViewer comes with integrated file transfer that allows you to copy files and folders from and to a remote partner - which also works behind firewalls.
TeamViewer is a very secure solution. All versions feature completely secure data channels with key exchange and RC4 session encoding, the same security standard used by https/SSL.
Remote presentation of products, solutions and services. The second TeamViewer mode allows you to present your desktop to a partner.
TeamViewer lets you connect to your partners in many different ways: You can either view or control your partner's desktop in order to do online-support.
System Requirements:
Supported OS: Windows 7/8/10
Processor: Pentium IV or above
RAM: 1 GB RAM
Free Hard Disk Space: 200 MB or more.