Free Download Microsoft OneDrive 21 - Free cloud storage from Microsoft on any device, anytime to enable users to easily manage, sync and transfer files
Overview of Microsoft OneDrive 21:
OneDrive (formerly SkyDrive) is a free cloud storage from Microsoft on any device, anytime. Use OneDrive on your Windows PC or Mac to access your favorite things on all your favorite devices, including desktops, tablets and mobile phones. It designed to enable users to easily manage, sync and transfer files.
When you install OneDrive, a folder is created on your PC that automatically syncs. Everything you put in this folder is automatically kept in sync between your computers (PC or Mac) and OneDrive.com, so you can get to your latest files from virtually anywhere. Whenever you add, change, or delete files in one location, all the other locations will be updated. All files can be managed from the OneDrive folder, without the need to use a browser.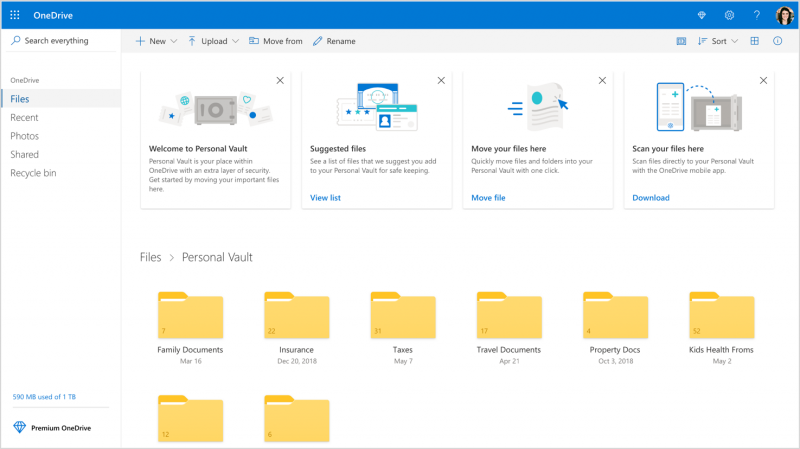 Microsoft OneDrive places an icon in the system tray, from where you will be able to access all of its features. In order to transfer files, just navigate to the OneDrive folder located on your PC and drag and drop the files you wish to transfer to your account.
Pros of OneDrive
Keep your favorite photos and videos safe, even if something happens to your device. Earn an extra 3 GB of storage when you activate camera roll backup to save photos automatically. It's easy to view them anytime, on any device.
The app works with Office, so it's easy to create, edit, and share your documents. Save your docs and access them on any device wherever you are.
Share files or entire folders, like photo albums, without attaching anything. Send an email with a link to only what you share and everything else stays private. Send them an email, link, or even post photos directly to Facebook.
For Windows 8 and over, OneDrive comes with your Microsoft account. It's like an extra hard drive that's available from any of the devices you use, so the files you save there are always with you. You no longer need to email files to yourself or carry around (and possibly lose) a USB flash drive. Instead, whether you're on your laptop and working on a presentation, viewing photos from your last family vacation on your new tablet, or on your phone reviewing your shopping list, you can get to your files on OneDrive.
Features of Microsoft OneDrive
Access your OneDrive right from Windows Explorer – photos, documents, and all your other important files.
Quickly add new files by dragging them to the OneDrive folder.
Easily organize your files and folders, just like any other folder.
Connect back to your PC if you forget to put something.
Choose the folders that you want to sync on your PC.
System Requirements:
Supported OS: Windows 7/8/10
Free Hard Disk Space: 200 MB or more.