Free Download ON1 Photo RAW 2021 v15 - Professional-grade photo organizer, raw processor, layering editor, and effects app for Adobe Photoshop, Lightroom
Overview of ON1 Photo RAW 2021 v15:
ON1 Photo RAW 2021 version is upgraded with many new features including AI Match and AI Auto support features, four filters in Effects (Weather, Sun Flare, Color Balance, Channel Mixer), improved decoding of files RAW (especially for Fujifilm). ON1 Photo RAW 2021 offers every photographer the need to edit photos no matter what they shoot - with no need to return between multiple software. Get the professional photo editing tools you need to get the professional results you need while keeping your workflow efficient, powerful, and simple.
At its core, ON1 Photo RAW includes a modern image processing engine. Optimized for today's super megapixel cameras and high performance computer graphics systems, Photo RAW is the fastest, most versatile and easiest to use photo editor on the market. ON1 Photo RAW gives you an open system for complete control over your storage, organization, editing and buying method. No long typing required, easy organization, unlimited dialing of your style, and ON1 will never be a subscription-only model.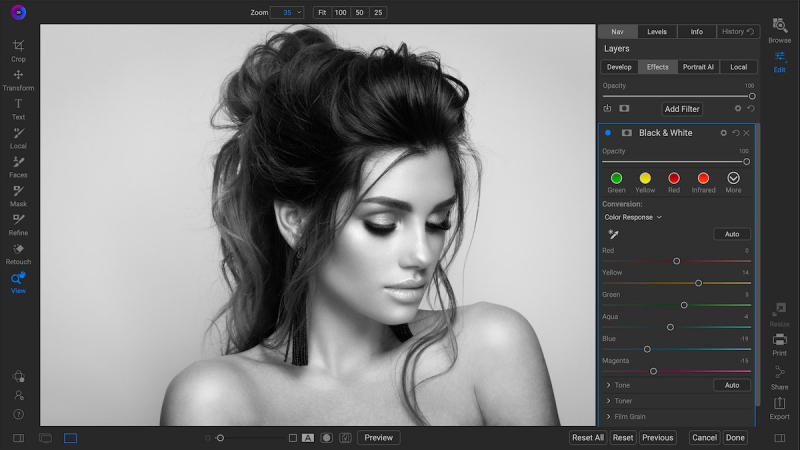 Plug-ins for your workflow:
- Adobe Photoshop
- Adobe Lightroom Classic
- Adobe Photoshop Elements
- Affinity Photo
- Capture One
- Apple Photos
- Corel Paintshop Pro
Main feature of ON1 Photo RAW 2021 v15:
Faster photo browser, can browse thousands of photos
The new automatic Album Timeline sorts photos by year, month, and day
Import your pictures from your camera, memory card, phone or other device
See where your photos were taken on a map, explore photo locations
Compare up to 15 photos at once to find the best photo
Displays a range of photos from a folder or album at the bottom of the screen
Automatically marks the best focus areas in green
Built with a powerful, modern RAW image processing engine
Apply basic, targeted edits to parts of the photo
New color balance filters, weather filters, channel filters
Non-destructive, stackable photo filters and presets
The feature automatically stitches many photos together quickly
Blend multiple shots at different focus distances to increase depth
Automatically detects the lens used and applies the right profile
Copy and paste edits or adjustments from one picture to multiple pictures
Use with Adobe Lightroom or Photoshop or as a separate application.
Integrated application options:
- Photoshop CC 2020
- Photoshop Elements 2020
- Photoshop Lightroom Classic CC 2020
- Affinity Photo
- Corel PaintShop Pro
Instructions to install the software ON1 Photo RAW 2021 Full:
Please read the Readme file for instructions on installing ON1 Photo RAW Full Version.
Technical Details and System Requirements:
Supported OS: Windows 7, Windows 8, or Windows 10
Processor: Intel Core i5, Xeon, or better
RAM: RAM: 4 GB (8 GB when used as a Photoshop plug-in) Recommended: 16 GB RAM
Free Hard Disk Space: 1.5 GB for installation SSD
Display: OpenGL 4.2-compatible video card with 1 GB dedicated video RAM, 1920×1080 resolution (at 100% scale factor)
Supported languages: English, German, Spanish, French, Japanese, Korean, Simplified Chinese, Russian, Portuguese, Italian, Dutch.