Free Download PDFsam: PDF Split and Merge 4 - PDF Split Or Merge allows you to split or merge PDF files easily with simple and effective manipulation
Overview of PDFsam: PDF Split and Merge 4:
PDF Split and Merge is an easy to use tool to merge and split pdf documents. Provides a grafical interface and a command line interface to spit, merge, mix and rotate your PDF documents. PDF Split and Merge Basic is an application that you can use to perform several actions on your PDF files, including merging, splitting, rotating and rearranging pages.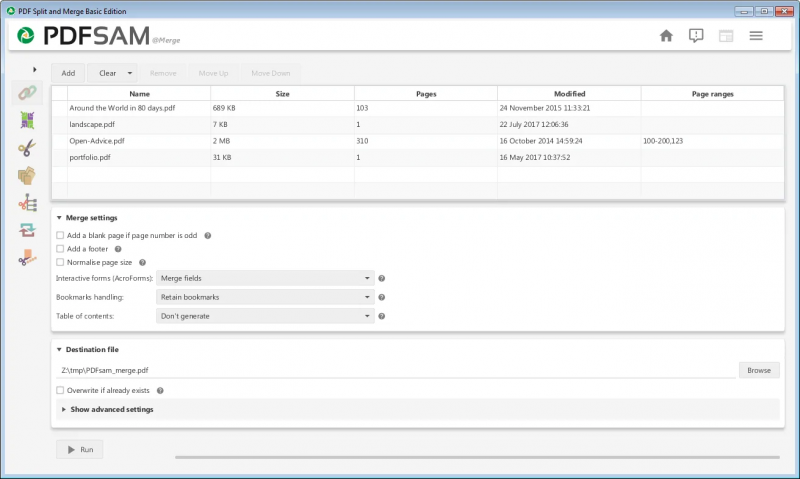 In particular, PDFsam Basic allows users to add table of contents to the beginning of the created PDF file. The Table of Contents will provide a list of clickable entries that allow quick navigation to the imported PDF files. In addition, PDFsam Basic splits PDF files by predetermined number of pages or by bookmarks or by size. Selected PDF files are split into separate pages, creating new documents from each page in the original file, or even or odd pages.
PDFsam Basic supports an extraction module capable of extracting pages from PDF files. Users easily select single pages or multiple pages of their choice and create a new PDF file with only the pages to use. The rotate module allows users to rotate PDF files by selecting the PDF documents they want to rotate and applying the selection of 90 degrees, 180 degrees or 270 degrees of rotation to document pages.
Features of PDF Split and Merge
All free.
Split PDF file.
Add table of contents to PDF file.
Mix PDF files according to even and odd pages.
Extract page from PDF file.
Rotate PDF pages.
System Requirements for PDFsam
Supported OS: Windows XP/7/8/10
Free Hard Disk Space: 200 MB or more.