Free Download Claris FileMaker Pro 19 - Quickly create custom apps to solve business problems and tap into the team's creative potential
Overview of Claris FileMaker Pro 19: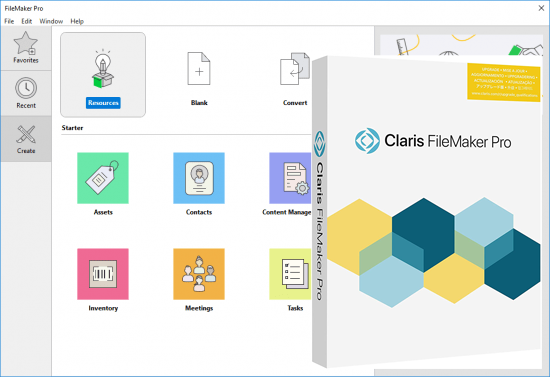 Claris FileMaker Pro - quickly build custom apps that solve your business problems today and tomorrow. Accelerate your business, unlock your team's creative potential, and drive to better outcomes. With built-in templates, drag-and-drop design, and an intuitive graphical UI, you'll be app-building in no time. And your work goes live the second you're ready, across every device that's the power of FileMaker.
Those jobs should use FileMaker:
CRM
Project Management
Content Library
Asset Manager
Invoicing Details
Contract Management
Event Planning
Field Research
Supply Management
Tour Dashboard.
Features of FileMaker Pro 19:
That means your app works on mobile or desktop, on the web, on premise and in the cloud. Because apps this important should be accessible anytime, anywhere.
Drag and drop prebuilt add-ons for instant app development. Add charts, calendars, kanban boards, activity timelines, and more.
Use smart tech such as Core ML for things like image and sentiment recognition, Siri Shortcuts for voice-enabled interactions
Create apps directly in the cloud with zero configuration and deployment. Add fully-integrated JavaScript to your custom apps.
Use scripts, triggers, calculation functions, graphical design tools, and relational data modeling to build robust apps that scale with your business.
Built on Claris Core, FileMaker includes industry-standard protections to keep your data secure both in the cloud and on premise.
Connect to all kinds of web services and apps in minutes using Claris Connect. It's the best way to automate your workflows.
System Requirements and Technical Details:
Windows 8.1 Standard and Pro Edition (64-bit only)
Windows 10 Enterprise and Pro Editions (64-bit only)
CPU: 1 GHz or faster x86- or x64-bit processor
RAM: 8 GB or more
Free Hard Disk Space: 100 GB or more.