Free Download InstallMate 9 - Creates software installers for Windows 32-bit and 64-bit desktop and server platforms, with complete customization
Overview of InstallMate 9: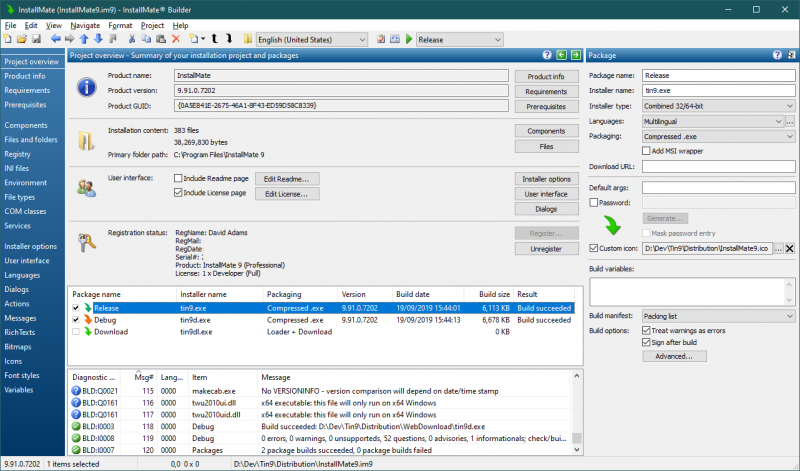 InstallMate 9 creates software installers for Windows 32-bit and 64-bit desktop and server platforms, with complete customization of all installer actions and dialogs. InstallMate 9 contains many features that you otherwise only find in products 10-20 times its price, plus some features that you will not find anywhere else.
Fairly outdated user-interface:
The program has a user friendly interface in which you can create a new project (mobile or standard installer) by selecting the language and giving it a name. In the "Product Information" area you can rename your product, write the publisher name and copyright notice, as well as generate a GUID. Plus, you can attach a "version info" file and add-on/update, as well as input the main product name.
Furthermore, you can write your website URL, email address, telephone, update URL, support URL and comments. You can also include a product registration page, specify the target system requirements and prerequisites.
Plenty of options for creating comprehensive installers for software projects:
When it comes to the installation contents, you can define the product features, components and assemblies, specify the files, folders, shortcuts, registry keys and values, INI files and values, environment variables which require installation, as well as point out the file and MIME types, COM classes and type libraries that must be registered.
Effortlessly create fast installers or packages for your projects, documents, or databases with the help of InstallMate
The program uses a low amount of system resources, includes a comprehensive help file and didn't freeze, crash or pop up errors during our tests. We strongly recommend InstallMate to all software developers and interested users.
Features of InstallMate 9:
Windows Logo compliance
Installation on all Windows 32-bit and 64-bit Desktop and Server systems
Fully self-contained, compact installers
Supports full GUI, progress-only, and hidden installation
Flexible packaging for easy deployment
Fully localized
Total control over all installation actions and dialogs
More than 500 different preflight checks are performed each time you build an installer package to alert you to potential installation problems before they happen. This helps you build better installers and reduces your support costs.
System Requirements:
Supported OS: Windows 7/8/10
Processor: Pentium IV or above
RAM: 1 GB RAM
Free Hard Disk Space: 20 MB or more.