Free Download Fast Video Maker - Create video from captured videos, clicked photos (jpg, jpeg, png, BMP) with text and sound effects in video
Overview of Fast Video Maker: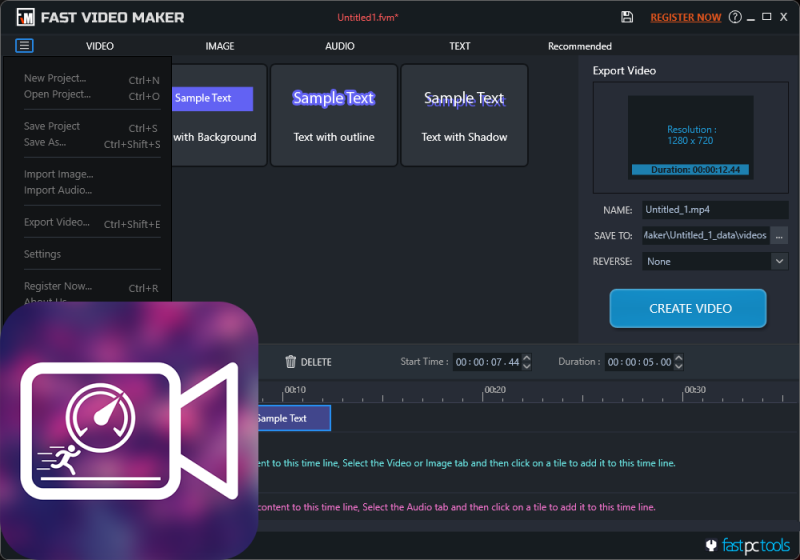 Fast Video Maker software allows you to make videos of your recorded videos, clicked photos (jpg, jpeg, png, BMP) with text and sound effects in your video. So you can create multiple types of videos with this powerful software like tutorial videos, Social media posts videos, and Youtube channel videos by which you may earn money as well.
Create videos with Fast Video Maker (FVM) for your training or presentation purpose for your official works within minutes. Create all popular size videos from your social media with this tool. You can create videos for all social media platforms like Facebook, Instagram, Youtube, Twitter, Tiktok etc.
Features of Fast Video Maker:
You can make video with multiple videos & photos and also you can cut and join video with Fast Video Maker.
You can add text in your video to gratify the video presentation.
Add your desired sound or songs to enrich your videos with using of Fast Video Maker.
You can resize, move your photos, videos and set background colour for video. Also set zoom and pan effect on your photos.
Customize your text according to your desire which you want to have in your videos. You have many features to design your text like animations, colors, borders, etc.
In your videos, you can set audio according to your desire. You can set audio volume and fade-in fade-out audio.
Fast Video Maker provides to save and edit your video project. So you can edit later or modify your video in future.
With FVM you can create your videos without the internet. The best thing is that you can create videos anytime or anywhere without thinking of the Internet.
In Fast Video Maker you can also have many types of options to export your videos in reverse.
System Requirements:
Supported OS: Windows 7/8/10
Processor: Pentium IV or higher
RAM: 1 GB RAM (2 GB recommended)
Free Hard Disk Space: 100 MB or more.