Free Download Pichon (Icons8) 9 - ICON synthesis software from ICONS8 (ICON sharing website), With the number of more than 90000 ICON of all kinds
Overview of Pichon (Icons8) 9:
ICON is a small icon representing a certain individual. The ICON you most often see is the application icon on the Desktop. When designing, if you need to use ICONs, you usually have to search on Google, to search faster you can use the PICHON 9.1 Full application with more than 90,000 free multi-topic ICONs.
PICHON is a software synthesizing ICONs from ICONS8 (ICON sharing website). With more than 90000 ICON types, all of them are free to make it easier for you to design. These icons come in types, formats, colors, and sizes. Hence, the PNG and SVG formats can be discolored according to your needs.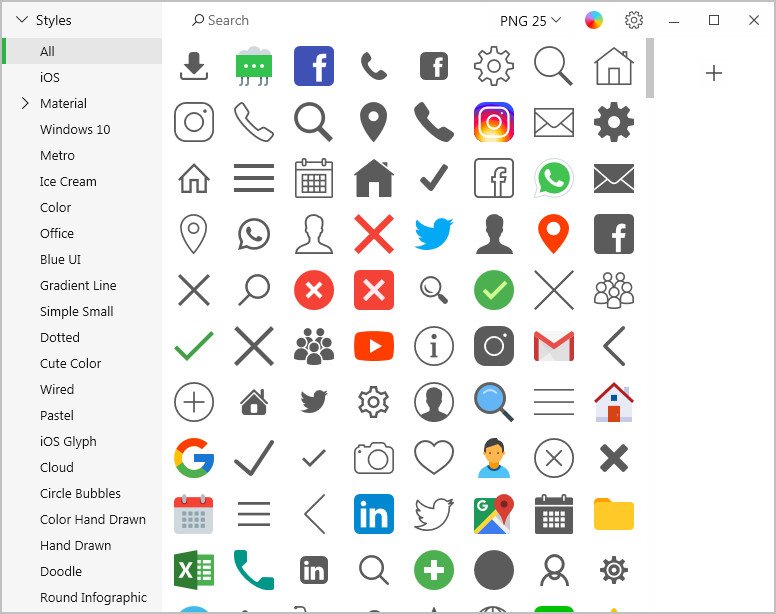 - Pichon (Icons8) interface is very simple and easy to use. The main functions are mainly finding subject, format and size. Besides, there's a large space to preview the icons, before you decide to use them. And Pichon is so well organized, all the icons are placed in the right categories to simplify the search. The built-in search function is extremely fast, as you type you will see results appear.
With Pichon, you can easily find, select and add icons to your graphic projects (works with Adobe Photoshop, Adobe Illustrator, Axure, Visual Studio ...). Therefore, designers save more time when drawing up drawing ideas.
Overview of Pichon 9 Features:
Find and use ICON even when there is no Internet
Supports searching icons by theme
There are around 50 categories, with 50 -200 each
An ICON can come in many different styles: material, iOS, Windows or one of the 22 other styles
Color, size and format options available for ICON: PNG, SVG
Drag and drop ICON directly into Illustrator, Photoshop, Visual Studio and other programs
User interface easy to use
Vector symbols are not merged and shape is preserved
Choose only the symbols you need and build your own font
Lets you search for icons quickly, and works well with Photoshop
Pichon provides a Code that generates ICON for use on HTML
Supported format: PNG, SVG, PDF, EPS, XAML, ICO.
Technical Details and System Requirements
Supported OS: Windows 7/8/10
Processor: Pentium IV or higher
RAM: 1 GB RAM (2 GB recommended)
Free Hard Disk Space: 250 MB or more.