Free Download MyDraw 5 - Advanced diagramming software for drawing flowcharts, org charts, mind maps, network diagrams, floor plans, UML diagrams
Overview of MyDraw 5:
MyDraw is an advanced Diagramming Software and Vector Graphics Drawing Tool. Create flowcharts, organizational charts, mind maps, network diagrams, floor plans, UML diagrams and general business diagrams with this program. MyDraw includes powerful features to help you with your flowcharts, org charts, mind maps, network diagrams, floor plans, general business diagrams and drawings. Including libraries with hundreds of diagram shapes and symbols, templates, powerful drawing tools, automatic diagram layouts, advanced printing and exporting capabilities, and many more, MyDraw is the right diagramming solution for your business, or personal projects.
The advanced Visio Drawing Import and Export (VSD Import, VDX Import/Export and VSDX Import/Export) of MyDraw will allow you to easily convert your Visio diagrams and work with them in Apple macOS and Windows Operating Systems. MyDraw also provides support for Visio-like "smart" shapes - dynamic diagram shapes based on formulas. With its exceptional and unique features, MyDraw is even better than Visio.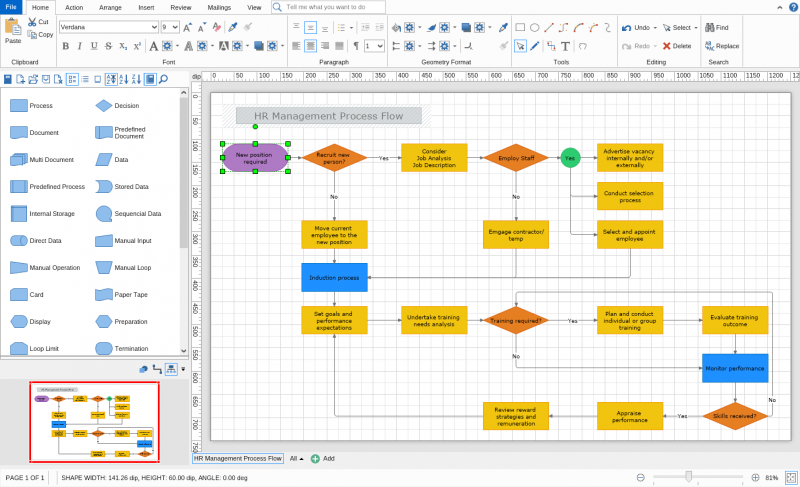 MyDraw includes many ready-to-use templates for flowcharts, organizational charts, flyers, certificates & business cards, and various diagram types. You can easily get started by editing existing diagram templates and making your own. The MyDraw team is constantly working on creating new templates and examples, new diagram shapes and symbols to support your work, now and in the future.
MyDraw comes with a large set of drawing tools which help you easily create any shape you need and style it to match your company's corporate identity or your personal demands. You can freely draw shapes using the Nurbs tool, or use the composing functions (Union, Intersect, Subtract, and Exclusive Or) to create new shapes from the basic ones.
MyDraw comes with lots of Automatic Layouts to help you quickly arrange your diagrams. Whether your diagram is large or small, you can have it perfectly layouted with just a few clicks. Each layout type provides many additional options, allowing you to customize the layout to your specific requirements.
Features of MyDraw 5
Familiar User Interface
Visio Compatibility
Hundreds of Diagram Examples and Templates
Diagram Shapes and Symbols
Powerful Drawing Tools
Advanced Printing and Export Options
Automatic Diagram Layouts
Powerful Rich Text Support
Spell Check and Proofing Languages
ESRI Shapefile Import for Drawing Maps
Barcode Drawing
User Interface Localization
Identical Experience Under Windows and Mac OS X
GEDCOM Format Family Trees
Mail Merge
Bookmarks
Presentations
System Requirements for MyDraw
Supported OS: Windows 7/8/10 (32-bit & 64-bit)
Processor: Pentium IV or above
RAM: 1 GB
Free Hard Disk Space: 100 MB or more
.NET Framework 3.5 or higher
Monitor: display resolution of at least 720p (1280 x 720). Work best at a resolution of WXGA (1366 x 768) or higher.