Free Download MAP for MindManager 4 - Mindjet mapping software tools and extensions from Mindjet and let you be more productive in your business
Overview of MAP for MindManager 4:
MAP for MindManager is an ever growing collection of tools and utilities that extend Mindjet's MindManager mapping software and enables you to be more productive and expand the scenarios where MindManager can be applied in both business and personal use. MAP for MindManager provides an ever expanding collection of useful and innovative tools that will help you use MindManager in ways that are either not normally possible or more effective than traditional methods.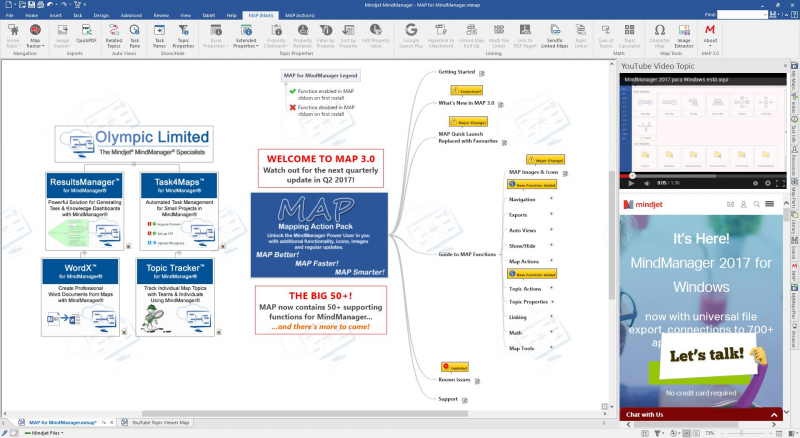 The MAP for MindManager ribbon menu can be configured to only display those tools you use most often leading to faster workflow and quicker mapping. There is also a Task Pane menu providing access to every tool in the collection, so you are never more than two mouse clicks away from any function.
Each release of MAP for MindManager is accompanied by a detailed overview video showing what is new, what has been updated, any issues reported and what the next few months holds in store for MAP users. These videos help you get up to speed with new features and help you get the most from MAP with each successive release. Take a few minutes to watch the latest release video below.
MAP for MindManager functionality and commands are organized into groups allowing easy identification and quick access from the MindManager ribbon menu. The sections below describe the current groupings. Click on them to view the individual commands and functionality offered by each group.
Features of MAP for MindManager 4
The Navigation group contains functions to help you navigate your Map collection.
The Exports group contains functions to help utilize your Map content in other applications.
AutoViews automate MindManager elements as you work with your Maps to save you time.
Show/Hide functions help you clear Map Properties and Task Panes to save on canvas real estate.
Map Actions help you perform time saving actions across your Maps such as clearing specific Task information
Sort Topics, resize Topic images and much more
Over 350 Images & Icons to make your Maps more visual
Map Tools provide simple utilities to help you Map better & faster
System Requirements
Supported OS: Windows 7/8/10
Free Hard Disk Space: 200 MB or more