Free Download NetLimiter Pro 4 - Network controller and network monitoring application for optimal internet traffic monitoring and control for Windows
Overview of NetLimiter Pro 4:
NetLimiter is an ultimate internet traffic control and monitoring tool designed for Windows. You can use NetLimiter to set download/upload transfer rate limits for applications or even single connection and monitor their internet traffic. Along with this unique feature, Netlimiter offers comprehensive set of internet statistical tools. It includes real-time traffic measurement and long-term per-application internet traffic statistics.
NetLimiter Pro Full Version comes with an improved interface and a new, better, modern network usage stats module and complete with either diagram or table. NetLimiter Pro is not only a powerful traffic monitoring and monitoring application, but also has a firewall function. It gives you full control over your computer. You can allow and disallow your app to connect and how fast these connections will be.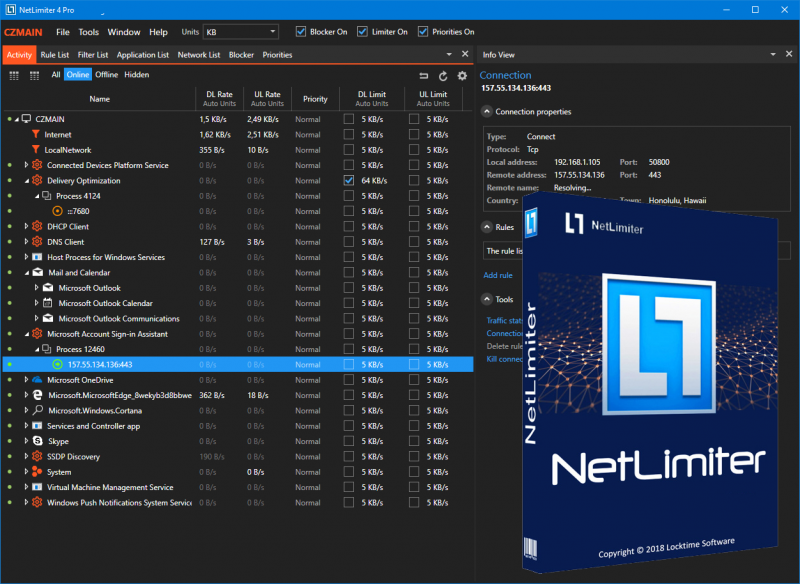 NetLimiter Pro 4 - Control Internet Download and Upload Speed over Network
Features of NetLimiter Pro 4:
OS restart not needed. Installs .NET 4.5 framework if missing.
Full internet bandwidth control over applications and computers
Powerful connection blocker
Long-term internet traffic statistics
Fully customizable behaviour using user-defined Rules and Filters
Ability to limit bandwidth of applications, connections and filters.
Firewall rule to allow or block in/out connections. Option to ask the user what to do.
Monitoring of applications, network connections and filters.
Firewall and limit rule editor.
Filtering of network traffic.
NetLimiter client can connect to other machine running NetLimiter.
Long-term traffic statistics.
Priority rule to prioritize selected traffic using simple interface.
Allow or deny the user to control or monitor NetLimiter.
Real-time traffic chart for selected application, connection or filter.
Option to start / stop rule at given time.
Programatic access to NetLimiter functions.
Support for IP version 6 protocol.
RELEASE NOTES NetLimiter 4.1.1.0:
Version 4.1.1 introduces brand-new Ignore rule. It allows users to ignore Limits or all Data passing through a given filter. For example with Ignore data rule you can bypass all traffic of VPNs clients, which very often doubles all traffic from/to a computer.
Technical Details and System Requirements
Supported OS: Windows 7/8/10
Processor: Pentium IV or above
RAM: 1 GB RAM
Free Hard Disk Space: 100 MB or more.