Free Download ReiBoot Pro 7 - The software helps to fix boot errors on iOS devices without losing data, can keep files on the device
Overview of ReiBoot Pro 7: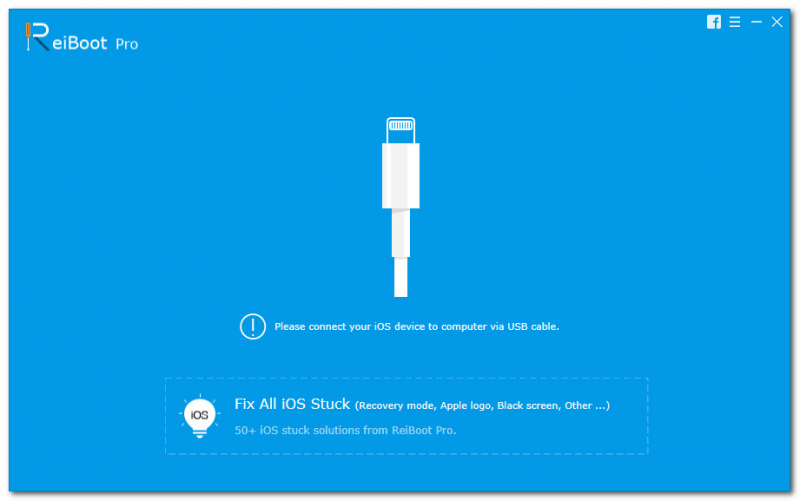 ReiBoot Pro is an extremely handy utility that can put your iOS device into recovery mode, as well as to pull it off this state with a single click. Usually, such an operation involves a tedious procedure which requires you to hold down the Home button of the device while disconnecting and connecting it to your computer, during which you also need to operate iTunes.
Solve errors on iOS devices:
ReiBoot is a wonderful resolution to all of these problems, making it possible to induce the Recovery mode, as well as exit it in an effortless manner, in a one-click operation.
Whether your device's Home button is broken, you've encounter a DFU black screen or even worse, the phone has entered an endless reboot loop, ReiBoot can help you nonetheless.
ReiBoot is compatible with most modern iOS devices, including iPhones, iPods and iPads and is way less demanding than iTunes, which is the traditional way to accomplish such operations. Moreover, ReiBoot won't cause data loss, being able to preserve the files on the device untouched.
The main feature of ReiBoot 7:
One click enter/ exit to recovery mode on both Android and iOS devices.
One click enter/ exit to fast boot mode on Android devices.
Android stuck on recovery mode/ fast boot mode/ download mode can be fixed.
You can fix the Samsung logo stuck on Samsung smart devices.
Fixes Samsung stuck in boot loop/ fixes Android/ Samsung black screen.
You can fix the Apple logo stuck on iPhones and install the latest firmware packages to fix it.
ReiBoot Download fixes iPhone black screen issue by repairing the iOS system.
System repair to fix iPhone frozen screen.
ReiBoot iOS can fix iTunes update/ restore errors.
Fixes many errors in iTunes during updating/ restoring, no need of uninstalling the app.
You can remove the screen lock iPhone even when the device is disabled.
ReiBoot Download fixes iPhone stuck on the loading/ iPhone boot loop/ reset iPhone without iTunes.
ReiBoot Android can fix Samsung phone won't turn on, fix any command error in the Android recovery mode.
Fix the issue on the Android touch screen not working.
Android phones slow can be fixed/ Samsung freezes up can be fixed.
Fix Android OTA update failures/ Android stuck in headphone mode.
System Requirements
Supported OS: Windows 7/8/10 (x86/x64)
Processor: Pentium IV or higher
RAM: 1 GB RAM (2 GB recommended)
Free Hard Disk Space: 200 MB or more.