Free Download Iperius Backup Full 7 - Allows you to make a backup copy of files to a safer place, working as a backup so that you do not risk losing them
Overview of Iperius Backup Full 7: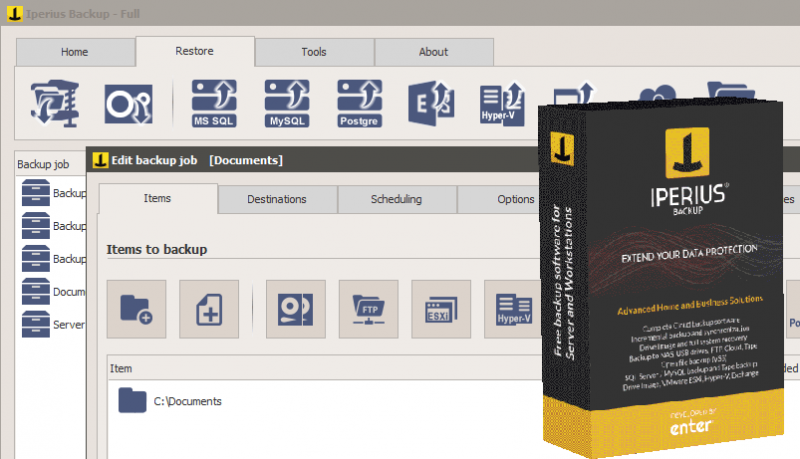 Iperius Backup Full allows you to make a backup copy of files to a safer place, working as a backup so that you do not risk losing them. You can configure this security store to be done in a recurring and automatic way, so you do not even have to work to remember to back it up. With a single application you will be able to easily save your files offsite to Google Drive, Dropbox or Microsoft SkyDrive. This backup task can be configured with a few clicks, and the result of this is the full security of automatic online backups, compressed and protected by an AES 256-bit encryption.
Iperius Console is the advanced tool for centralized management and monitoring of your computers and backup. Using either the dedicated desktop application or just the web portal, you can view the results of your backup operations, examine the details of any errors, set and customize the backup schedulings and also run backup jobs remotely.
Iperius Backup is an advanced and affordable tape backup software for Windows Server 2008 and Windows Server 2012. Iperius is one of the best tape backup software: extremely easy and quick to setup, reliable, fast, and with flexible recovery features. Iperius Backup supports any tape drive, starting from the common HP DAT 72 USB or SCSI, to AIT, DLT and SDLT, and up to the powerful and high-capacity LTO 5 and LTO 6 devices, that allows to back up several terabytes.
FTP backup and syncing of files and folders:
Iperius Backup is an advanced software for FTP backup on any type of server or NAS. Iperius can send backups to a remote server with a few simple configurations, with the secure FTPS protocol and also with zip compression and AES 256 bit encryption. Iperius can perform automated upload of entire websites, limit the transfer bandwidth, make parallel transfers to multiple servers and help system administrators to build a centralized backup strategy for clients.
Iperius Backup can synchronize an unlimited number of files and folders from your computer to external hard drives or to network devices (like NAS servers). You can copy files and folders to an unlimited number of destinations and keep mirror copies deleting those files no more existing in the source folders. This allows to save space on your backup device and to always have a perfectly synchronized backup.
Features of Iperius Backup full 6:
Ransomware protection by detecting encrypted files
Installation as Windows service
Running of multiple and parallel backups
Running of external scripts, processes and files, before and after the backup
Chaining of backup jobs
Special variables to easily customize paths and settings
Unlimited backup jobs, unlimited source items, unlimited destinations
Quick and automatic Restore of servers, VMs, databases, mailboxes
Automatic authentication on network shares
Planned and automated execution of each backup job
Inclusion and exclusion filters based on file extensions
Automatic computer shutdown after backup
Backup procedures compliant with GDPR regulations.
System Requirements:
Supported OS: Windows 7/8/10
Processor: Pentium IV or higher
RAM: 1 GB RAM (2 GB recommended)
Free Hard Disk Space: 200 MB or more.