Free Download McAfee Stinger 2 - Standalone utility used to detect and remove specific viruses. It's not a substitute for full antivirus protection
Overview of McAfee Stinger 2: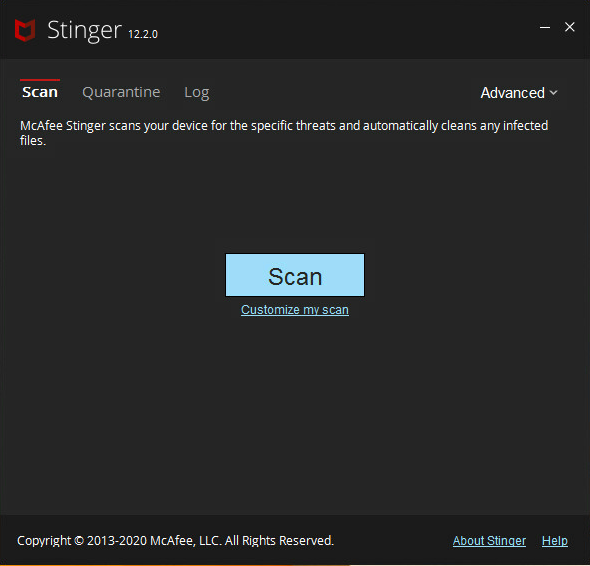 McAfee Stinger is a standalone anti-virus scanner to detect and remove specific viruses. It is not a substitute for full featured anti-virus protection, but rather a tool to assist administrators and users when dealing with an infected system. Stinger now includes Real Protect, a real-time behavior detection technology that monitors suspicious activity on an endpoint. Real Protect leverages machine learning and automated behavioral based classification in the cloud to detect zero-day malware in real-time.
Advanced scanning technology:
The program utilizes McAfee scan engine technology, including process scanning, digitally signed DAT files, and scan performance optimizations.
Stinger detects more than 3000 viruses, Trojans and variants as well as malware that masquerades as a legitimate security application (Fake Alerts).
The interface is simple and familiar:
The McAfee Stinger interface is plain and straightforward, simply select the drive or folders to scan and click a button. You can choose an action to perform if a virus is detected (delete, prompt, quarantine or rename) and also configure which type of files to scan.
Affirmation: McAfee Stinger does not offer automatic updates, the program is not designed as long-term protection but for occasional use.
System Requirements:
OS: Windows 7/8/10
Processor: Pentium IV or higher
RAM: 1 GB RAM (2 GB recommended)
Free Hard Disk Space: 100 MB or more.