Free Download Mirillis Action! 4 - The application allows real-time Windows screen recording and capture with excellent HD video quality
Overview of Mirillis Action! 4: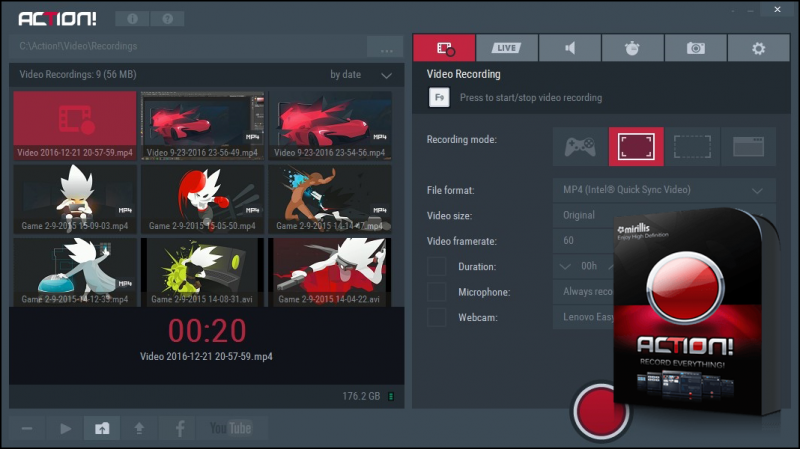 Mirillis Action! allows real-time recording/capture of Windows Aero desktop in a superb HD video quality. With Action! you can record web player videos, your gameplay, display game framerates, add live audio commentary to create high quality tutorials, record music, capture screenshots... and more!
Mirillis Action is perfect for creating a presentation, a textbook, because you can immediately comment on all the points, it's also convenient for gamers, you can explain any situation. There is support to create official screenshots, music recording is also possible. Overall, the feature set is large enough and perfect for any task. You will get all of this in a stylish, dark Russian interface that doesn't have too many settings, but everything there is easy to edit, no problem with this. I think everyone can understand.
User-friendly interface:
Action! is compact, stylish and user friendly. Built-in screen and gameplay recording manager allows to browse, delete selected items and export recordings to popular formats and devices.
Action! screen recorder defines new standard of user experience for games benchmarking, gameplay and Windows desktop real-time recording software.
Action! gives you Greenscreen Mode. Now you can cut out the background, while recording with your webcam, from your video recording.
Select device recording mode to capture video from gaming consoles, other PC, TV broadcasts, webcams or camcorders.
Features of Mirillis Action 4:
Action! watermark added to video recordings
Adding live audio commentary
Adding own logo or watermark to recordings
Fast, built-in upload to YouTube and Facebook
Adding webcams to video recordings
Free Android app to control your recordings
Live streaming to Twitch.tv, YouTube etc.
System Requirements:
Supported OS: Windows 7/8/10
Processor: Pentium IV or higher
RAM: 1 GB RAM (2 GB recommended)
Free Hard Disk Space: 300 MB or more.