Free Download NxFilter 4 - A free DNS filter for commercial and non-commercial purposes. It's light, fast and easy
Overview of NxFilter 4:
NxFilter is a DNS filtering server that is capable of filtering Internet traffic based on domain names and content categories. In addition, it can use DNS packet inspection to protect your network from malware and botnet activity. NxFilter is installed on a single PC, where it acts as a DNS proxy server. In order to route your Internet traffic through NxFilter, you will need to change the DNS settings on all machines that you want to protect to use the IP address of the NxFilter instance (instead of your regular DNS servers).
Each machine that uses the NxFilter server in their DNS will be automatically protected based on your global or user based settings. You can configure the filtering options from a browser based interface (Default password: admin) that also provides statistical charts and detailed reports.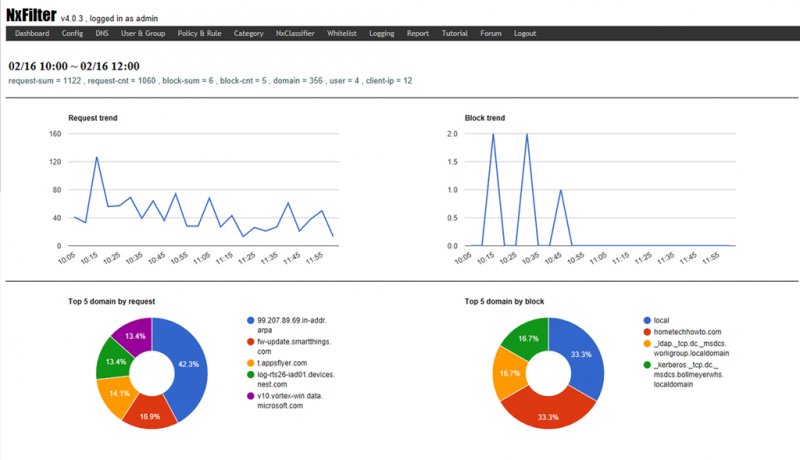 NxFilter supports multiple content policies can automatically apply a certain policy to a specific user. You can also create content categories that allow you to group multiple domains into a category that can be blocked or quota limited. NxFilter can also be integrated with AD/LDAP. The easiest way to block content by category is to download a blocklist from ULRBLocklist.com (see documentation), which allows you to quickly add dozens of pre-configured categories with almost 2 million websites.
Overview of NxFilter 4 Features
Active Directory integration, Safe-search enforcing, HTTPS filtering, Bandwidth control, User level report, Application control, Remote user filtering, Quota time, Malware and botnet detection, Built-in clustering and more.
You don't want to slow down your network by installing a network security software. NxFilter is a light-weight DNS filter. It doesn't cause any latency issue in your network. We guarantee you the best performance with filtering.
Commercial purposes, non-profit organizations, schools, hospitals, companies and business environments, family protection, etc. Whatever the purpose, it's free! No hidden option. We don't force you to buy anything.
System Requirements for NxFilter
Operating system: Windows Server 2012, 2012 R2, Windows 8, Windows® 2008 R2, Windows 7, Windows Vista, Windows 2003, Windows XP (x32 and x64*)
Disk space up to 100 MB