Free Download Ocenaudio 3 - A cross-platform, easy to use, fast and functional audio editor, VST plugins support and Real-time preview of effects
Overview of Ocenaudio 3: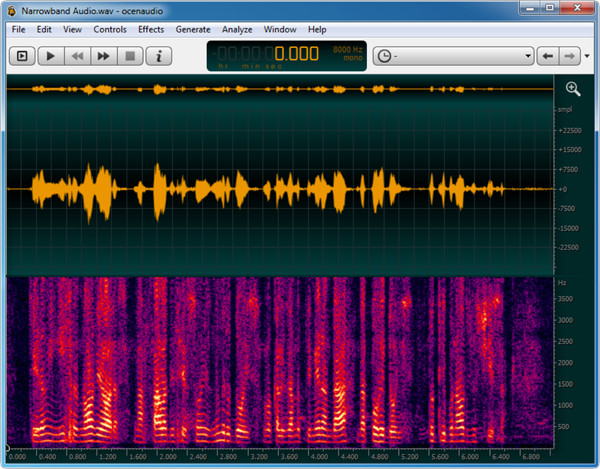 Ocenaudio is an easy to use audio editor that allows you to edit, record and analyze audio files. You can apply various filters and effects with real-time preview of the outcome, edit multiple selections at once and perform many standard editing tasks like copy, paste, and more.Other features include VST plugins support, inserting of digital noise, tones and DTMF sequences, Waveform/Spectral and spectrogram views, sound statistics, iPhone ringtones support and more.
Why OcenAudio:
OcenAudio is available for all major operating systems: Microsoft Windows, Mac OS X and Linux. This means you can always rely on OcenAudio on any computer.
No matter how many files are open, OcenAudio always remains responsive. Time-consuming tasks (such as opening and saving audio files, or applying effects) run in background, allowing you to work on other files.
The development of OcenAudio began when a brazilian research group at the Federal University of Santa Catarina (LINSE) needed an easy-to-use audio editor loaded with features such as multiple file formats support, spectral analysis and audio signal generation. OcenAudio development focuses primarily on usability, providing the user with a cohesive and intuitive audio editing and analysis tool.
Features of Ocenaudio:
OcenAudio supports VST (Virtual Studio Technology) plugins, giving its users access to numerous effects. Like the native effects, VST effects can use real-time preview to aide configuration.
Applying effects such as EQ, gain and filtering is an important part of audio editing.
The effect configuration window also includes a miniature view of the selected audio signal. You can navigate on this miniature view in the same way as you do on the main interface, selecting parts that interest you and listening to the effect result in real time.
OcenAudio is available for all major operating systems: Microsoft Windows, Mac OS X and Linux
To speed up complex audio files editing, OcenAudio includes multi-selection. With this amazing tool, you can simultaneously select different portions of an audio file and listen, edit or even apply an effect to them.
With OcenAudio, there is no limit to the length or the quantity of the audio files you can edit. Using an advanced memory management system, the application keeps your files open without wasting any of your computer's memory
Besides offering an incredible waveform view of your audio files, OcenAudio has a powerful and complete spectrogram view. In this view, you can analyze the spectral content of your audio signal with maximum clarity.
System Requirements
Supported OS: Windows 7/8/10
Processor: Pentium IV or higher
RAM: 1 GB RAM (2 GB recommended)
Free Hard Disk Space: 200 MB or more.