Free Download StudioLine Photo Pro 4 - Effective software for the professional editing and management of large image collections in server-based networks
Overview of StudioLine Photo Pro 4:
StudioLine Photo Pro is a photo management and editing application tailored for network use, allowing administrators to create multiple user profiles and assign them different access permissions. It can handle large image collections and enables you to share them with other users in the network.
Sophisticated user administration functions are available to manage users, groups and permissions. Using a group-centric security model makes it easy to control capabilities for staff and grant varied access levels to specific image archive folders. Numerous images tools such as white balance, unsharp mask oder RGB mixer are available. All editing steps are non-destructive; they are kept in a database and the original image remains untouched.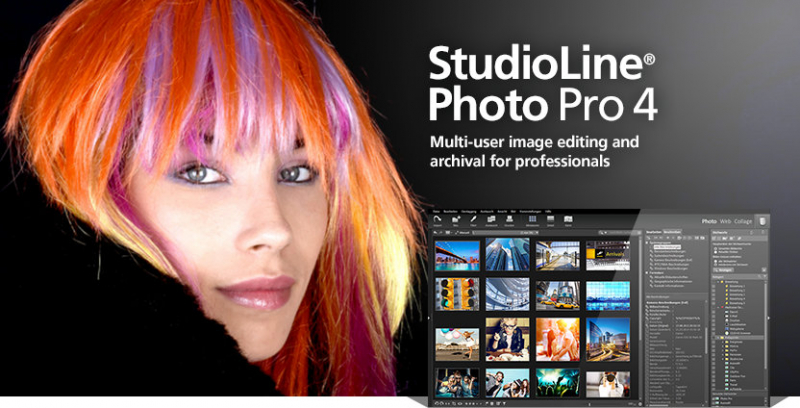 Photo collections can be easily exported to a specific folder or a CD / DVD, a KML file with thumbnails, sent via e-mail or uploaded to flickr. Alternatively, you can print them on paper, generate slideshows, include them in an image gallery for web publishing or in collage, for easier viewing.
Categorize your images with unlimited text in system and user descriptors or by assigning keywords and ratings. After that, searching for specific images or those matching a certain theme is child's play.
Features of StudioLine Photo Pro 4
Save frequently used image tools or combination of tools as templates, then optimize other images with just a click of the mouse.
Embed your personal watermark in your images to prevent unauthorized use.
With just one click remove color casts from your photos and restore the luster of its natural colors.
With this professional sharpening filter, emphasize details and contours in your images.
Conveniently adjust individual color channels of your image, or create stunning black & white versions.
Optimize your images with an abundance of image tools with professional-grade capabilities.
The selective blur filter helps with reducing image noise or imparting an elegant softening effect.
Easily align an image along a horizon or vertical line, and crop it to the optimal detail. The original image remains unchanged!
Locate images by searching for specific texts in individual or all descriptors.
RAW formats of all popular cameras are supported.
System Requirements for StudioLine Photo Pro
Supported OS: Windows 7/8/10
Processor: Pentium IV or above
RAM: 1 GB RAM
Free Hard Disk Space: 200 MB or more