Free Download SpeedyFox 2 - A small utility for PC that helps speed up Firefox, Skype, Chrome and Thunderbird completely free with just one click
Overview of SpeedyFox 2:
SpeedyFox is a brand new small utility that allows you to boost Firefox, Skype, Chrome, Thunderbird in a single click absolutely for free! Firefox (and sometimes it's add-ons) uses SQLITE databases to store lots of its settings. By the time the databases grow and Firefox starts working slowly. It will take a lot of time to load during startup, the overall speed will be effected, and browsing Histories will be too slow.
This is very common problem and it occurs largely because of fragmentation of databases. SpeedyFox compacts those databases without loosing any data. Databases are optimized to operate faster and are decreased in size. After you optimize your Firefox, Skype, Chrome, Thunderbird with this tool, you will get a fresh newly-installed feel because the speed indeed gets considerably faster.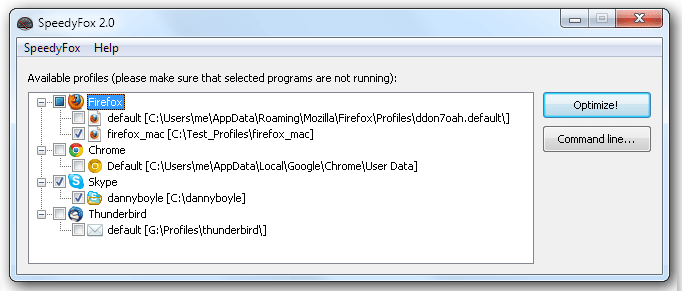 Once installed, SpeedyFox automatically detects your Firefox's default profile. If you have more than one profile, you can select the one you want to optimize from the drop-down menu. If you have portable version of Firefox, choose your profile path manually by selecting "Custom…" profile. All you have to do is hit the Speed Up Firefox button.
Features of SpeedyFox:
Boost Startup in up to 3 times!
Speed-up browsing history
Overall quicker operation
Smaller profile size.
The optimization process can take anywhere from 5 minutes to an hour depending on how large your databases are. The whole optimization process is safe as it does not effect your history, bookmarks, passwords, etc.
System Requirements:
Supported OS: Windows 7/8/10
Processor: Pentium IV or higher
RAM: 1 GB RAM
Free Hard Disk Space: 100 MB or more.