Free Download O&O ShutUp10 - Provides you with full control over various privacy related features that share or collect your personal data under Win
Overview of O&O ShutUp10: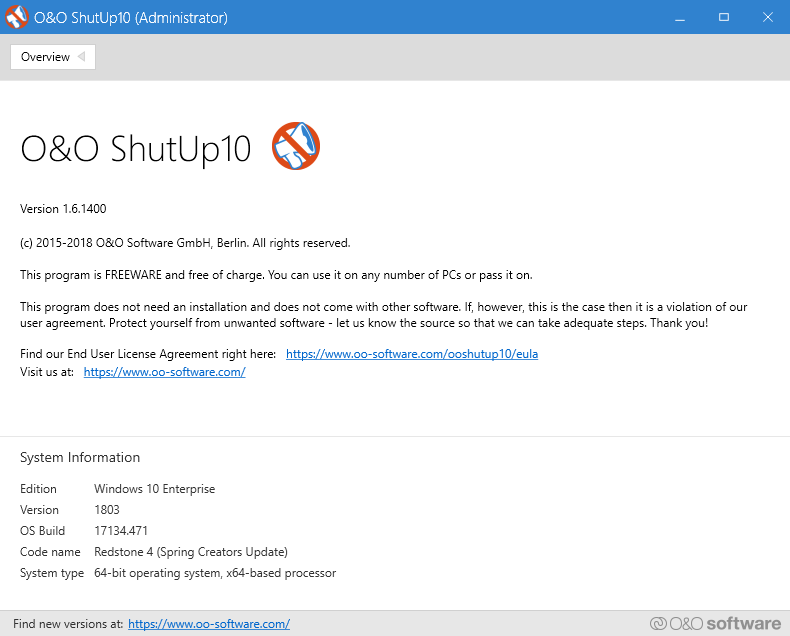 O&O ShutUp10 means you have full control over which comfort functions under Windows 10 you wish to use, and you decide when the passing on of your data goes too far. Using a very simple interface, you decide how Windows 10 should respect your privacy by deciding which unwanted functions should be deactivated.
Control over your operating system:
Adapt your security settings
Protect your privacy
Control location services
Control Windows Updates
Do not pass on your user data and diagnostics.
O&O ShutUp10 is entirely free and does not have to be installed – it can be simply run directly and immediately on your PC. And it will not install or download retrospectively unwanted or unnecessary software, like so many other programs do these days!
Features of ShutUp10:
Disable automatic updates for Windows 10
The interface is simple and easy to use
Works as an application in the background and does not affect computer performance
Free to use.
System Requirements
Supported OS: Windows 7/8/10
Processor: Pentium IV or higher
RAM: 1 GB RAM (2 GB recommended)
Free Hard Disk Space: 100 MB or more.