Free Download GiliSoft USB Lock 8 - Data leak prevention tool that prevents leakage and copy of your data to USB Drives, External Drives, CDs/DVDs
Overview of GiliSoft USB Lock 8: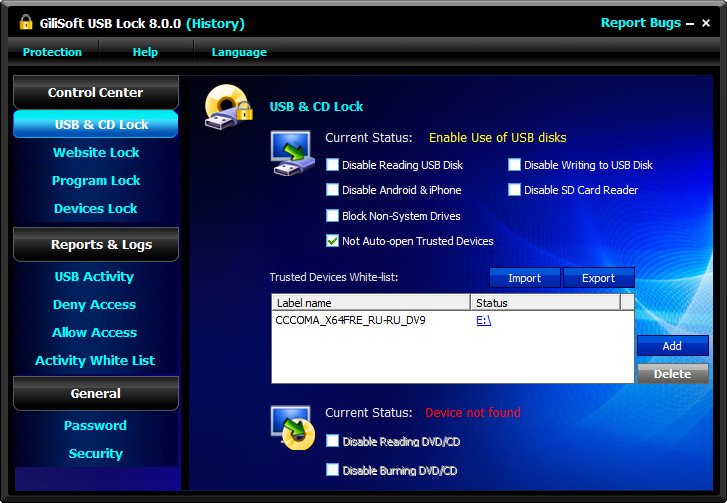 GiliSoft USB Lock is a data leak prevention tool that prevents leakage and copy of your data to USB Drives, External Drives, CDs/DVDs or other such portable devices. Once installed, USB Lock lets you block all such drives and devices that do not belong to you. With USB Lock, you can share your PC with anyone without fear of data theft.This is an easy USB Secure Software and powerful Endpoint DLP Suite that helps you to lock usb port,make dvd/cd burner read-only,block some websites,forbid some programs and disable more devices.
Block USB Drives:
Disable reading from USB disks or disable writing to USB disks.USB Lock doesn't allow any type of USB drive to access your computer unless you authorize it. By default, all types of USB drives are blocked including external drives, FireWire, Enhanced mini-USB, Host Controller Interface (HCI), HP-IL, Com, LPT, IrDA, USB on-the-go, U3, EHCI, RAID Controller, Host adapter, Serial Cable (use with data transfer), Serial ATA, ACCESS.bus and any storage device that is attached to USB port showing a drive in the system.
Website Lock:
Block accessing some websites. This utility allows you to block unwanted websites from display in Internet Explorer. If a website is blocked the user is forwarded to a blank page or to a "blocked page" and the contents of the original page are not loaded on your PC. Stop loading banners and ads, stop your kids from spending hours in chat rooms or remove undesired websites from their view. Prevent your children from having access to certain websites content such as adult sites and gambling.
Devices Lock:
The program can be used to restrict read or write access to removable media devices such as CD, DVD, floppy, flash and USB drives.It also can be used to disable printer,moderm,com lpt ports,infrared,bluetooth,1394 ports
Features of GiliSoft USB Lock 8:
Block USB/SD Drives
CD Lock,Block Media & Blu-ray Discs
Trusted Devices White List
Reports & Logs
Website & Devices Lock
Powerful Self-protection Mode
Data Leak Prevention.
System Requirements:
Supported OS: Windows 7/8/10
Processor: Pentium IV or higher
RAM: 1 GB RAM (2 GB recommended)
Free Hard Disk Space: 200 MB or more.