Free Download HitmanPro.Alert 3 - A lightweight application that can monitor your browser activity and detect potential threats on PC system
Overview of HitmanPro.Alert 3:
All the features found in HitmanPro are also included in HitmanPro.Alert, including a powerful, professional-grade virus cleaner. While most traditional virus cleaners simply remove offending malware files, our deep scan and clean goes the extra mile by eradicating all traces and remnants of the malware that previous security software may have left on your computer. It'll be like your computer was never infected in the first place.
Moreover, the program is able to encrypt all keystrokes to prevent keyloggers from hijacking your passwords, private messages and other sensitive information, prevent malware from infecting the main executable of a trusted process (e.g. antivirus), stop backdoor traffic by locking down the network, and block malicious USB devices that pose as a keyboard.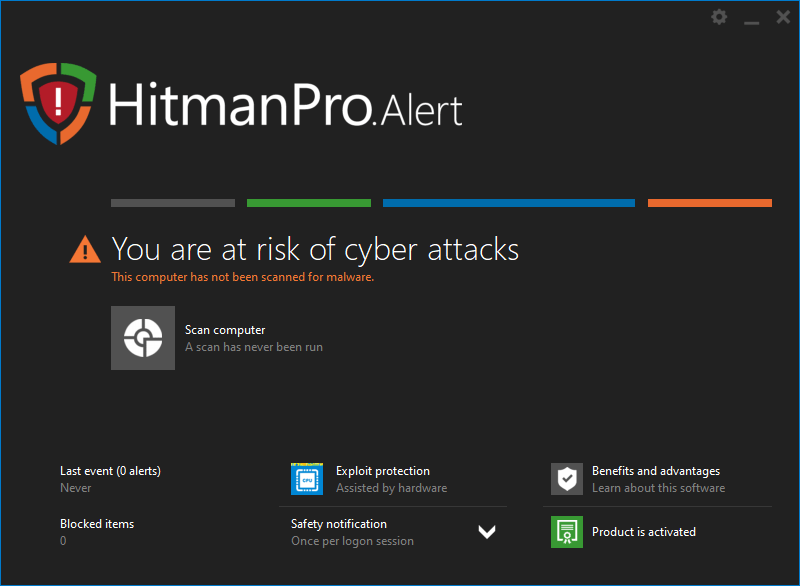 Features of HitmanPro Alert 3
Finds and removes all traces of known and new malware
Targets apps that are actually spyware, adware, and more
Advanced Real-Time Protection
Stops all types of ransomware from encrypting your files and boot drive
Blocks phishing attacks and compromised websites for safe browsing and shopping
Online Banking Protection
Prevents vulnerable programs from being hacked to gain access to your system
Monitors access to your webcam, and blocks attempts to record your keystrokes
System Requirements and Technical Details
Supported OS: Windows XP/7/8/10
Processor: Pentium IV or higher
RAM: 1 GB RAM
Free Hard Disk Space: 20 MB or more