Free Download PDF Cracker 3 - Decrypt blocked PDF files, software is used to decrypt protected PDF files, with "owner" password set
Overview of PDF Cracker 3:
PDF Cracker can be used to decrypt protected PDF files, which have "owner" password set, preventing the file from editing (changing), printing, selecting text and graphics (and copying them into the Clipboard), or adding/changing annotations and form fields. PDF decrypt is being done instantly. Decrypted file can be opened in any PDF viewer (e.g. Adobe Acrobat Reader) without any restrictions --- with print / copy / edit functions enabled. All versions of Adobe Acrobat are supported. PDF Cracker does not rely on any other third-party software, of course Adobe Acrobat and Reader are NOT required.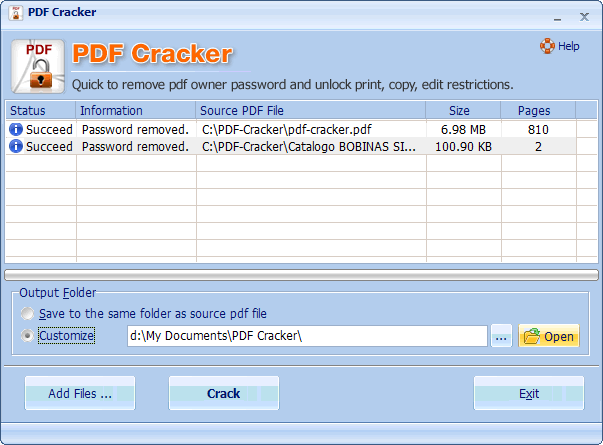 PDF Cracker Benefits and Features:
Windows 10/8/7/Vista/XP. (support 32bit & 64bit).
Remove the security settings from your encrypted PDF file is instant.
Support PDF1.8 format (formerly only supported by Acrobat 9.0 application).
Support PDF1.8 (Acrobat 9.x) files, including 40-bit RC4 decryption, 128-bit RC4 decryption, AES decryption, compressed files and unencrypted metadata.
Decrypt protected Adobe Acrobat PDF files, removing restrictions on printing, editing, copying.
Support drag and drop PDF files.
Full install / uninstall support.
How To Use PDF Cracker:
1) Run PDF Cracker from "Start Menu -> Programs -> PDF Cracker".
2) Click "Add Files" button to Open the pdf documents in file list. Also allows drag and drop files.
3) Click Decryption button will Decryption PDF Files.
4) Decrypt PDF password ...
5) Open target PDF file or target folder.
Introduction To PDF Security:
The application of security on documents has always been a delicate balancing act between ease-of-use and adequate protection for the document's contents. When the documents contain commercial content, insufficient security can mean lost income; when the protected content is sensitive confidential information, the consequences can be far more dire. On the other hand, if product documentation were to be password-protected, users may not be able to access it. This illustrates the point that stronger security doesn't necessarily mean that it's a better fit, so it's important not to mistake capability for imperative with regards to security.
Technical Details and System Requirements
Supported OS: Windows 7/8/10
Processor: Pentium IV or higher
RAM: 1 GB RAM
Free Hard Disk Space: 100 MB or more.