Free Download IDM UltraEdit 27 - The world's No. 1 standard text editor trusted by professional programmers and developers
Overview of IDM UltraEdit 27: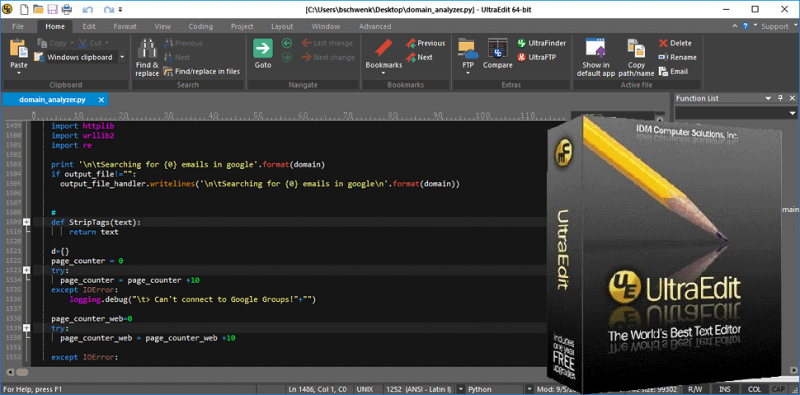 UltraEdit is the world's number 1 standard text editor. Used as the go-to editor by programmers, professional developers, researchers, bloggers, web developers, IT professionals and everyone in between! No matter what the job requires from basic editing to full scale project development or heavy data mining millions trust UltraEdit as their daily computing solution.
Why go with UltraEdit:
Unsurpassed power, performance, startup, & file load. No other editor can load and handle files with as much power as UltraEdit.
Customizable, configurable, beautiful themes. Skin the entire application - not just the editor - to suit your tastes.
OS integration (command line, shell extension). Fire up IDM UltraEdit right from the Windws explorer context menu. Integrate it with your other favorite apps and utilities via its robust command line support.
Blazing fast find / replace and find in files / replace in files. No one does search like UltraEdit. Almost every search feature you can think of, and then some.
Fully integrated file compare. Instant diff operations. Quickly see a visual diff of your code, directly from UltraEdit.
Native FTP / SFTP browser, SSH / telnet console. Access your servers and open files from FTP directly in UltraEdit. Explore remote servers, edit on the command line, and more!
Powerful sort of file / selection. UltraEdit's powerful sort gets the job done quickly. Set multiple column-based sort keys, or do a field based sort.
Industry's best large file handling: 10+ GB and beyond. UltraEdit eats large files for lunch. Easily open huge multi-GB files and modify them with ease.
Hex editing. Column / block mode editing. The built-in hex edit mode and column editing mode give you more flexibility in editing your file data.
Special XML and JSON support. Quickly parse and reformat XML and JSON. Browse the code structure in the XML manager or JSON manager. Easily spot and fix errors.
Features of IDM UltraEdit 27:
Easily open and edit large files - 4 GB and beyond!
Multi-caret editing and multi-select
Column (block) mode editing
Powerful search: Find & replace in files, regular expressions, inverse search, etc.
File compare
Code syntax highlighting for nearly any programming language
Code folding and hierarchical function listing
Beautify and reformat source code
Powerful XML handling: XML tree view, reformatting, validation, etc.
Auto-closing XML/HTML tags
Smart templates - automatic intelligent code completion
Editor themes - skin the entire app
Powerful and configurable tools.
System Requirements:
Supported OS: Windows 7/8/10
Processor: Pentium IV or higher
RAM: 1 GB RAM (2 GB recommended)
Free Hard Disk Space: 300 MB or more.