Free Download Active KillDisk Ultimate 13 - Permanently erases all data on Hard Disks, Solid State Drives, Memory Cards and USB drives, SCSI storage and RAID disk
Overview of Active KillDisk Ultimate 13:
Active KillDisk Ultimate is the world's most powerful software for permanent data destruction. This software allows you to erase hard disks and partitions, destroy all files and folders on the hard disk and completely erase all data from any drive without being able to recover deleted data . Active KillDisk helps you to wipe unused data on your hard drive, removable disk or USB device and residue from unused and unused space on your disk.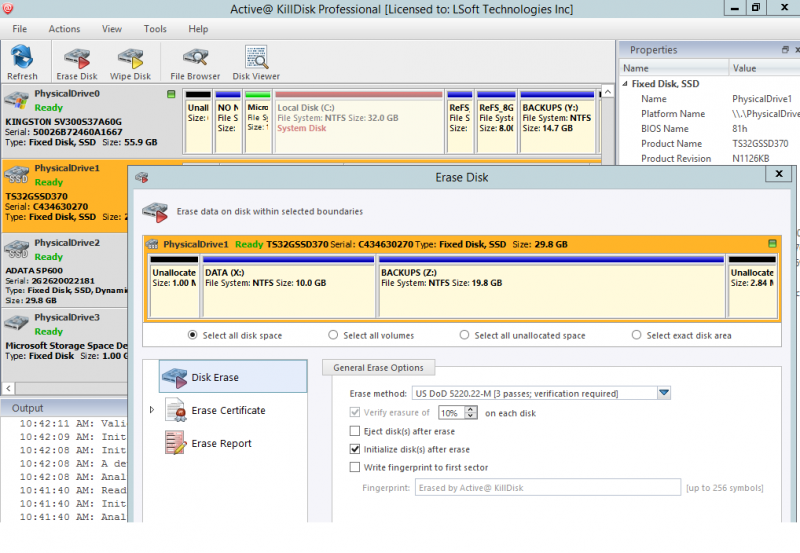 Active KillDisk Ultimate is ready to destroy your confidential data forever, it allows you to erase your data with custom settings and with international data hygiene standards. The software can perform wiping at the same time with several physical hard drives, supports command line parameters, and can run in batch mode and fully automatic support. It is designed with advanced algorithms, this utility is useful for wiping all your confidential data on hard drives and other removable media with no possibility of future recovery.
Main features of Active KillDisk Ultimate:
Boot Disk Creator for CD / DVD / BD or USB
Detects HPA / DCO (hidden region) on the disk
Erase hard disks, partitions and unused space
All data on any disc can be safely destroyed
Support for all internal and external devices
Supports a variety of Hard Disk / Interfaces
Supports drives larger than 2 TB
Support parallel wipe
Works with CD / DVD / Blu-ray and USB drives
Supports command line parameters, and more.
Technical Details and System Requirements
Supported OS: Windows 7/8/10
Processor: Pentium IV or higher
RAM: 1 GB RAM (2 GB recommended)
Free Hard Disk Space: 2 GB or more.