Free Download UltimateDefrag 6 - Hard drive defragmentation application is very efficient and flexible, greatly improving system performance
Overview of UltimateDefrag 6: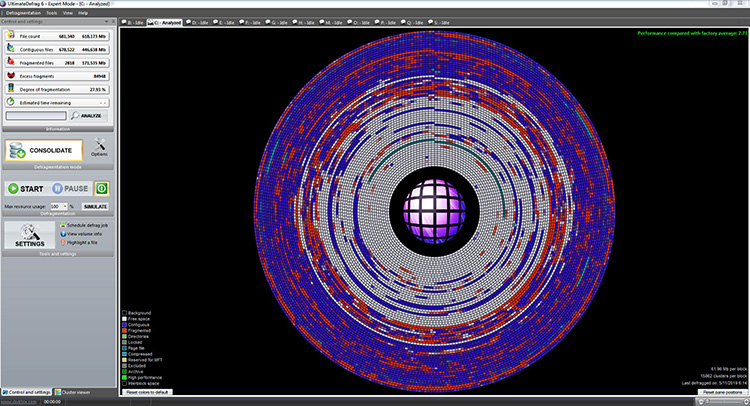 UltimateDefrag is rated by many users as a very efficient and flexible hard drive defragmenter that significantly improves system performance. This program can search and organize the data that you often use into the fastest access speed area of ​​your hard drive, increasing the working speed of the drive.
UltimateDefrag will proactively distribute the data on the disk, representing the hard drive capacity in a circle with the corresponding color for each data type. The user can choose any hard drive to defragment, then the program will scan and display information of the data on the hard disk including the number of files, files to be reordered, the level of the arrangement.
UltimateDefrag Version 6:
A brand new version, more powerful than ever, for hard drive performance faster than ever so you can continue to experience a Windows® PC where everything just happens faster!You now have more power and flexibility than ever before for keeping your hard drive not only defragmented but also optimized for absolute maximum performance possible. All other defragmentation software only defragments...
UltimateDefrag is the only software product addresses all three causes of reduced hard drive performance to make your Windows PC, as well as all your favorite games and applications, perform at absolute maximum performance possible from a file access point of view.
UltimateDefrag defragmentation speed is quite fast, even for large partitions. This job can be scheduled and the program will also work silently without disturbing other activities on your computer.
Main features of UltimateDefrag
- Efficient drive defragmentation
- Rearrange files on hard drive
- Many defrag modes to choose from
- Fast and safe working speed.
Technical Details and System Requirements
Supported OS: Windows 7/8/10
Processor: Pentium IV or higher
RAM: 1 GB RAM (2 GB recommended)
Free Hard Disk Space: 200 MB or more.