Free Download Dashcam Viewer 3 - Software application to watch movies, GPS data and shock sensor data recorded by dashcam
Overview of Dashcam Viewer 3:
Dashcam Viewer is an exciting all-in-one video analysis software that gives you a variety of functions, as well as a simple, easy-to-understand graphical interface if you know English. You will be able to watch videos from video recorders and also support extracting large amounts of data from them. The software is also capable of transmitting GPS data recorded by the device and when watching the video, you get an accurate map of your route.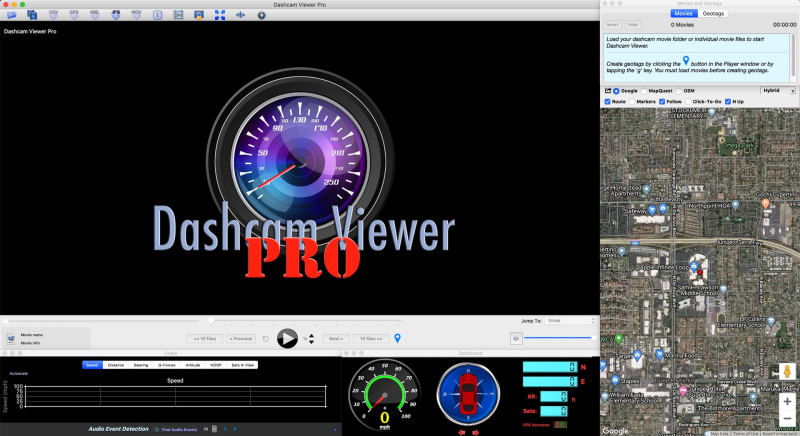 Great tool for dashcam monitoring:
Play your dashcam video on the home screen while viewing updated vehicle speed, distance, position, bearings and shock sensors on charts, data display and maps. "Geotag" points of interest along your route. Export them to a file. Or import them back. Export your GPS routes to popular file formats like comma separated value (CSV), Google Earth KML, and GPS-exchange (GPX) for further data analysis.
Features of Dashcam Viewer:
Export all GPS track data to CSV file
Export all GPS track data to GPX file
Export all GPS track data to Google Earth KML file
Export view to PNG image
Export portion of movie to separate movie file
Switch dual-channel display modes
Merge multiple movies into a single large movie
Arrange ancillary windows to the right of the main window
Re-center movie(s) in viewer frame
Modify preferences.
System Requirements:
Supported OS: Windows 7/8/10
Processor: Pentium IV or higher
RAM: 1 GB RAM (2 GB recommended)
Free Hard Disk Space: 300 MB or more.