Free Download FBackup 9 - App designed to help you back up your personal files and protect them with automatic scheduled work
Overview of FBackup 9: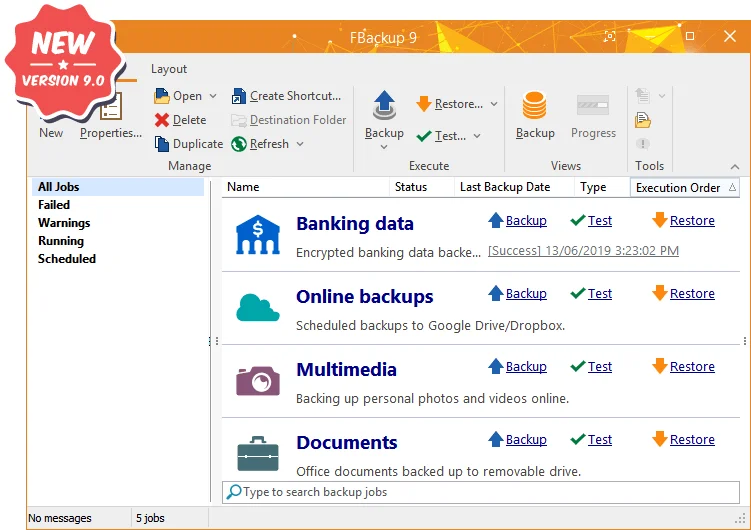 FBackup is an application designed to help you backup your personal files and protect them. These can be saved on your hard drives or on your local network. FBackup can easily back up sources from local drives (including USB connected drives) or online locations (Dropbox/Google Drive) to destinations such as USB/Firewire connected devices, mapped network locations or in the cloud (Dropbox/Google Drive).
It creates either standard zip files (when using "full backup"), or exact copies of the original sources without any compression (using "mirror backup"). The best thing about this freeware backup software is that it protects your data for free. Furthermore, you can encrypt the data and add a password. This means that only you restore your backups.
Features of FBackup
FBackup is a backup software free for both commercial and personal use
You define a backup job, set it to run automatically, and forget about it.
When using "full backup", the sources will be archived using standard zip compression.
FBackup uses ZIP64 compression, which means that it can create zip files over 2GB in size.
Ransomware are some of the most aggressive crypto-viruses and FBackup protects your data against those
The main functions of a backup program are backing up and restoring
FBackup automatically checks for updates weekly
Multiple backup destinations
Backups in the Cloud
Backup plugins
If a file is in use by another program at the time of the backup, FBackup will still be able to back up that file, because it uses the Volume Shadow Service that Windows provides. So, as long as you're using Windows 10, 8/8.1, 7, Vista, XP, 2016/2012/2008/2003 Server (32/64-bit)
Multi-language
Pros of FBackup
Data backup.
Ability to work automatically according to schedule.
Supports multiple backup points.
Safe and high data security.
System Requirements:
Supported OS: Windows 7/8/10
Processor: Pentium IV or above
RAM: 1 GB RAM
Free Hard Disk Space: 200 MB or more.