Free Download RAMExpert - Gives you a crystal-clear vision of your RAM (Random Access Memory) specification
Overview of RAMExpert:
RAMExpert gives you a crystal-clear vision of your RAM (Random Access Memory) specification. It then recommends upgrade if appropriate. Additional details include the name of the memory manufacturer, the serial number of each stick and online links via Google and Amazon to find additional details or purchase more RAM.
In addition to fetching RAM reports, the program also pinpoints empty RAM slots, encouraging you to upgrade your system in order to benefit from higher performance. It is the to-go version of RAMExpert, sporting the exact feature set as the latter; the only difference is that the portable version doesn't write to the system's registry (as opposed to the installer edition) and can be carried around on a removable drive and launched on any computer.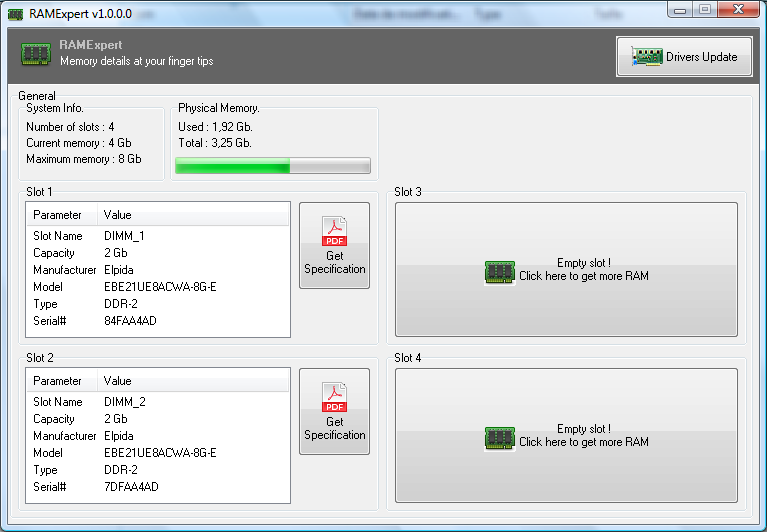 RAMExpert is very intuitive and comes wrapped inside a user-oriented interface, being fit for all audiences, regardless of the level of IT knowledge. Simply double-click the EXE file in order to launch it, then start exploring the report, which will be immediately fetched. The overview includes details such as number of slots, current vs maximum memory, as well as real-time stats of the amount of used RAM.
The program detects the slots that are currently occupied and delivers several details, namely slot name, capacity, manufacturer, model, type and serial number. Extensive specifications can be retrieved by pressing the 'Get Specification' button corresponding to each slot. RAMExpert also shows empty slots, suggesting upgrades by redirecting you to Amazon where you can purchase this type of hardware (however, this is simply a recommendation, since you can acquire RAM from wherever you want).
Features of RAMExpert
Clear RAM manufacturer data decoding
Access to manufacturer's specification
Upgrade capability indication, based on motherboard empty slots
Real time memory usage indication
User-friendly interface
Internationalization support
System Requirements:
Supported OS: Windows 7/8/10
Free Hard Disk Space: 100 MB or more