Free Download VolumeLock 2 - Easy-to-use audio controls give you the freedom to control the volume so your PC's volume never changes unexpectedly
Overview of VolumeLock 2:
VolumeLock 2.4 is an easy-to-use audio control utility that gives you the freedom in loudness control. With this program you can guarantee that the volume settings of your PC will never be changed unexpectedly. By creating your own fully customized rules for any volume control, including recording controls, you can prevent other applications from changing your volume settings. VolumeLock includes a powerful lock function, a scheduler, command line support, an ability to store and retrieve a lot of rule configurations via one mouse click or system-wide hot keys. It works with all modern sound cards and can be useful for home and power users alike.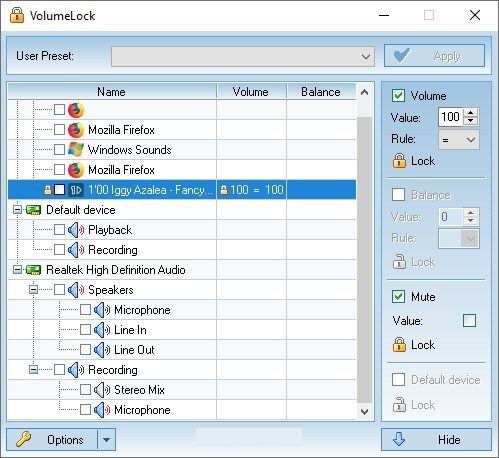 Key Details of VolumeLock 2:
User-friendly, multilingual interface with themes support
Controls volume, balance and mute/select audio lines in real-time
Supports per-application volume control (Vista and higher)
Assignment the customized rules for any volume control
Controls any number of volume controls at the same time
Locking default playback and recording audio devices
Unlimited, fully customized user presets for quick rules setup
Password protection to prevent unauthorized access
Supports customizable system-wide hot keys for presets
Displays lock status in the tray icon
Works with multiple sound cards simultaneously
Powerful built-in scheduler
Command-line support for use in a batch file or script
Automatic loading of the program at the system start-up
Can work as service or as an ordinary application
Works on Windows 9X/Me/NT4/2000/XP/2003/Vista/7/8/10
System Requirements of VolumeLock v2:
Supported OS: Windows 7/8/10
Processor: Pentium IV or higher
RAM: 1 GB RAM
Free Hard Disk Space: 100 MB or more.