Free Download Sweet Home 3D 6 - Interior design support for your home and display in extremely realistic and beautiful 3D images
Overview of Sweet Home 3D 6: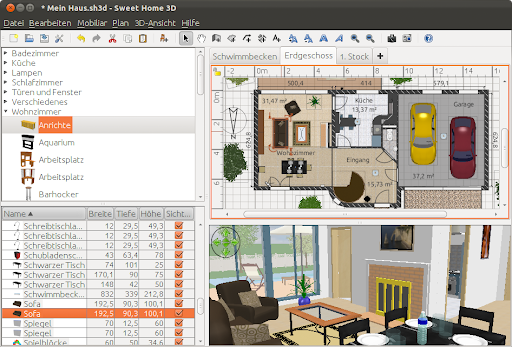 Designing an apartment that seems just for the sake of well-trained architects is now easier than ever with the help of Sweet Home 3D design software. You can create unique apartments, arrange home furnishings, and decorate your home according to your preference without much difficulty. Sweet Home 3D will help you to place furniture with a home design in 2D and view it in 3D. It will make the tedious chores of finding furniture as well as placement simpler and more enjoyable. Once completed, you will have fun watching your own home, with your own style.
Sweet Home 3D fully integrates drawing tools to create basic shapes in the house such as straight, round or exactly sized steep walls in a few simple steps with the mouse and keyboard. Users can also use drag-and-drop operations to mount doors and windows to fixed walls. The software will calculate in detail the suitable holes for the installation.
With the designed models, you are allowed to use it to print and export to PDF, bitmap or vector image, video and 3D file in standard file formats, share it with friends via sending forms. email, upload internet.
In the interior design segment, Sweet Home 3D deserves a high position in graphic design software. In terms of overall design features for the music, there are many software that can meet this, such as SketchUp, which supports rendering with detailed calculations of dimensions, rulers, protractors. , cut by face, layers, analyze length and area, SketchUp also helps create shadows and assign exact sizes and ratios for shapes, paste images on shapes.
Features of Sweet Home 3D
Draw straight, round or sloping walls with precise dimensions using the mouse or the keyboard.
Add furniture to the plan from a searchable and extensible catalog organized by categories such as kitchen, living room, bedroom, bathroom.
Change color, texture, size, thickness, location and orientation of furniture, walls, floors and ceilings.
While designing the home in 2D, simultaneously view it in 3D from an aerial point of view, or navigate into it from a virtual visitor point of view.
Annotate the plan with room areas, dimension lines, texts, arrows and show the North direction with a compass rose.
Create photorealistic images and videos with the ability to customize lights and control sunlight effect according to the time of day and geographic location.
Import home blueprint to draw walls upon it, 3D models to complete default catalog, and textures to customize surfaces.
Print and export PDFs, bitmap or vector graphics images, videos and 3D files in standard file formats.
System Requirements
Requirements: Windows® 10, Windows® 8/8.1, and Windows® 7
Languages included in Sweet Home 3D:
English, Français, Português, Español, Italiano, Deutsch, Nederlands, Svenska, čeština, Polski, Magyar, Ελληνικά, български, русский, Tiếng Việt, 中文 (中国), 中文 (台灣), 日本語