Free Download UltraMixer Pro Entertain 6 - DJ music software, it allows you to mix digital music using formats like MP3, WMA, AAC, OGG, WAV or CD in real time
Overview of UltraMixer Pro Entertain 6: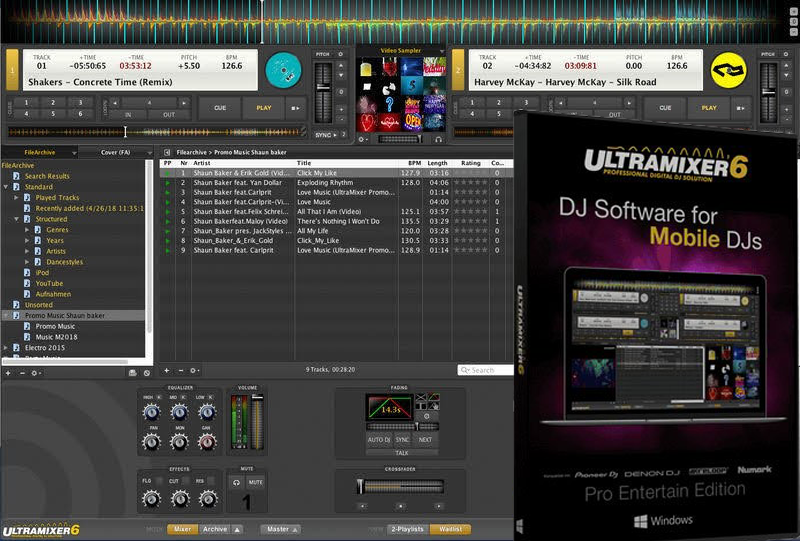 UltraMixer Pro Entertain is a DJ music software, it allows you to mix digital music using formats like MP3, WMA, AAC, OGG, WAV or CD in real time. All you need is a sound card. DJ's turntables have been replaced by two digital SoundPlayers, "vinyls" are available through the integrated FileArchive. UltraMixer 6 unifies multiple software in one an easy to use photo slide show comes along with the live visuals and video playback. Furthermore you can display a beautiful background image, an on-screen logo or your own images (e.g. menu cart or flyers). Finally the live text function (like "buffet is open") and party games with the live camera function on a beamer are rounding up the portfolio. Even a transmission of a football world championship is possible due to the integration of network cameras.
UltraMixers well known and highly precise audio engine brings crystal clear and 100% unchanged (no artificial filters) sound. The stability of the audio playback is ensured even if the system is under high load circumstances. The integrated Auto-Sync mixes two music titles perfectly together and makes transitions easy with a single mouse click. You will be supported by 7 real time effects, a unique 31-band equalizer, 6 hot cue buttons, smart synchronized loop and built-in 16 channel sample player.
Video Sampler:
With 16 high-quality video loops and 20+ transitions, users can take your DJ event to the next level! Video sampler supports all popular formats (MPEG, MP4 ASP DivX / Xvid, WMV). This tool is embedded in its own widget, so feel free to move it in the interface.
With just one simple press of a button, you can playback all video clips that will surprise your audience. UltraMixer offers 16 additional clips that you can apply to individual works.
Use video templates for in-company presentations at VJ events, clubs, dancing or sports.
Visual Sampler:
Visual module allows users to display all pictures with the click of a button. Stylish animations and Laser animations support DJ show effects even without music clips. Since all effects are in focus, you can place them in your slide show.
UltraMixer adds a new option to run two different images on the screen through a widget. UltraMixer now offers 50+ free visual effects. Most midi controllers have a performance pad that matches UltraMixer. You can easily play audio and video chorus directly from the personal controller.
The main feature of the DJ UltraMixer software:
Mobile DJ 2.0: Audio, Video & Karaoke - Live-Visuals, Live-Text, Slideshows, Live-Camera
Highly stable audio engine with auto sync function, 100% real sound, mixing music with one click
Features impressive auto, automatic switching without loss of sound quality
Intuitive user interface, adjustable through widgets
Data-based music archives for professional music management
Support for all popular controllers like Pioneer, Denon, Numark, Reloop and American DJ
Supports more than 50 MIDI-Controllers via Plug'n'Play.
Remote application control via smartphone.
Technical Details and System Requirements
Processor: Intel i5 or higher (Intel i7 recommended).
Memory: 4 GB (8 GB or more recommended).
Operating System: Windows Vista / 7/8 / 8.1 / 10.
Graphics card: NVidia GT 650M or ATI HD 4800 and above.
Sound Card: Two sound cards or multichannel sound cards (recommended).
It is recommended to use the MIDI-Controller with the sound card.
In short, UltraMixer is a good music mixing tool, it offers a diverse set of features that can suit professional DJs, and even casual users alike.