Free Download Sparkol Videoscribe Pro 3 - The software to create compelling animated videos quickly and easily without the need for technical or design knowledge
Overview of Sparkol Videoscribe Pro 3:
Trusted by the world's leading companies, educators and users from more than 160 countries, Sparkol has led the way with the vision and development of the leading whiteboard animation interpretation video solution, Sparkol VideoScribe PRO 3. The Sparkol VideoScribe app helps users create whiteboard style animations and videos to showcase products, create a highlight, or reveal a new concept in an informal and captivating way. Whiteboard animated videos are a fun and engaging way to get a message to your target audience and make them remember it. Different from the usual slide-by-slide presentation or talk guide, whiteboard stories are more interactive and have a higher chance of user success.
Working with VideoScribe was not difficult. In fact, the doodle canvas is limitless, allowing the user to add as much content as needed. Presentations can be previewed at any time and published when ready. VideoScribe comes with a free image, text and recording library that includes a plethora of shapes, fonts, and rhythms that users can insert into the canvas. Forms can be easily resized using the mouse, scrolling around art and rotating.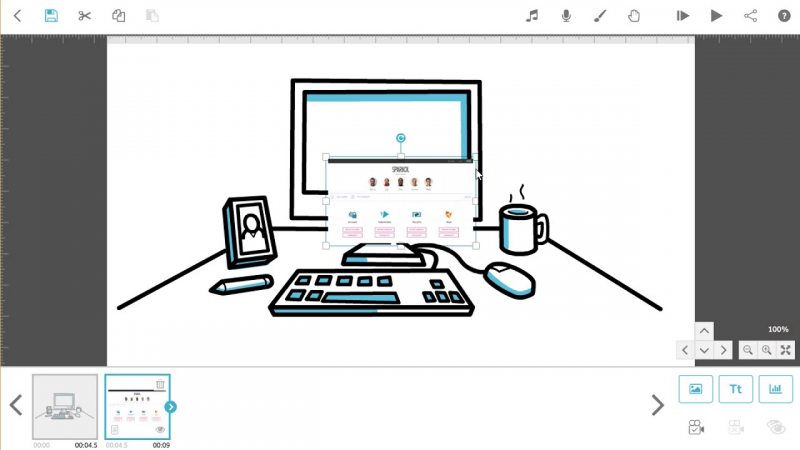 In addition, VideoScribe comes with a built-in voice recorder for adding voice to your presentation and explaining all the concepts presented. Performance can be previewed at any given moment, allowing users to see how a realistic hand draws things on board and will allow ideas to come to life.
Whether a user is creating presentations for groups, clients, students, or schools, VideoScribe is flexible enough to cover any topic and help deliver content in a memorable way.
Features of Sparkol Videoscribe Pro
- Full HD output
- Fast rendering
- Use the output (whole or part) commercially
- No watermarks or branding
- Use your own hands
- Output to QuickTime movie or Flash Video
- Create PNG & JPG image sequences
- All updates & upgrades as they come out
- Commercial use of the full image library
- Commercial use of the full music library
- Commercial use of the full font library
- Resell the output as yours (as long as you have an active Pro account)
System Requirements for Videoscribe Pro
- Supported OS: Windows 7/8/10 (64-bit)
- Free Hard Disk Space: 500 MB or more