Free Download BluffTitler Ultimate 15 - Create brilliant 3D titles for your videos with BluffTitler, display and play 3D video effects
Overview of BluffTitler Ultimate 15: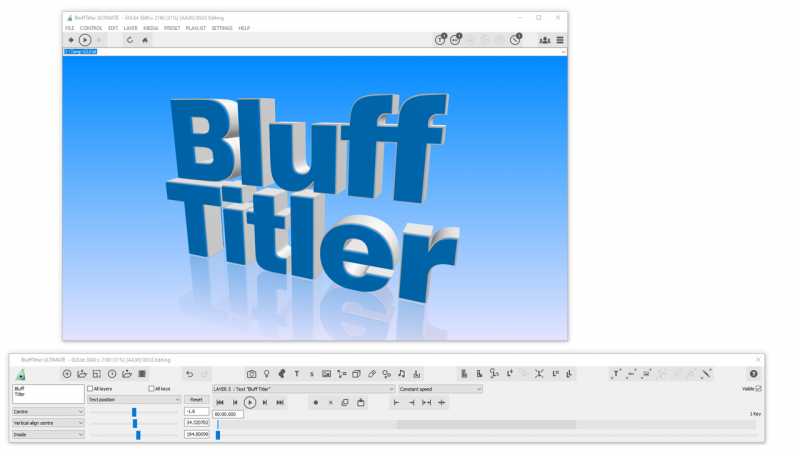 BluffTitler is a simple and effective application for creating, displaying and playing 3D video effects. Using this program, you can easily create many beautiful 3D titles and text and add them to your videos. This does not require the difficult and advanced work of specialized software. In a simple graphical environment, select an item from different templates and place and edit it to get the end result. In this program you can use various effects like golden text, blood drip, explosion, jump text, inversion, plasma, etc.
One of the interesting features of this software is the ability to transform or transform the animation of images together, for example, you can display photos at different ages of a person with the help of of this feature from childhood to adulthood in soft animation. In addition, for the background, the stunning effects of explosions have been designed, you can display in an attractive way by adjusting its various parameters. Another stunning effect of the program is its ability to mirror text on its background. In addition, background music can be used. The quality of the output files is very high and with a bit of creativity and artistic taste you can produce very attractive clips.
Features of BluffTitler
Simple graphic environment and easy operation
Quickly create effects and watch them instantly
Enjoy a large number of effects including explosion effect, mirror reflection, golden text, floating text, and more.
Possibility to use plasma and fractal backgrounds
Ability to turn jpg images
Ability to use mp3 files for the clip
Ability to transform background videos
High quality output
Possibility to use textures for both text and background
Ability to create animated text
Possibility to use particle effects.
System requirements:
Microsoft Windows 7, 8 or 10 (32 or 64 bit)
A DirectX 11 compatible graphics card
80 MB of available hard-disk space
Exporting emojis and exporting MP4 requires Windows 10.