Free Download Text Editor Pro 14 - Code and text editor that offers syntax highlighting for more than 50 scripting languages như C++, PHP, Java, Perl
Overview of Text Editor Pro 14:
Text Editor Pro is a code and text editor that offers syntax highlighting for more than 50 scripting languages. In addition to standard editing features, it offers page bookmarks, line/word/character count, line sorting, search & replace and browser preview. Text Editor Pro supports more than 50 programming languages ​​such as C ++, COBOL, DOT Graph Drawing, DSP, DWScript, Fortran, Foxpro, Java, Perl, Python, Ruby SQL and many others. This feature alone makes Text Editor Pro an invaluable tool that can appeal to almost any programmer.
All the tools you use frequently are displayed in the toolbar at the top of the main window but can also be accessed from the right-click context menu. You can easily select any of the languages from a drop-down menu, create a new document and start writing. The application can handle multiple opened documents and displays them in separate tabs. Since aspect is important in the layout of the text, you get to increase and decrease indent and sort the text lines.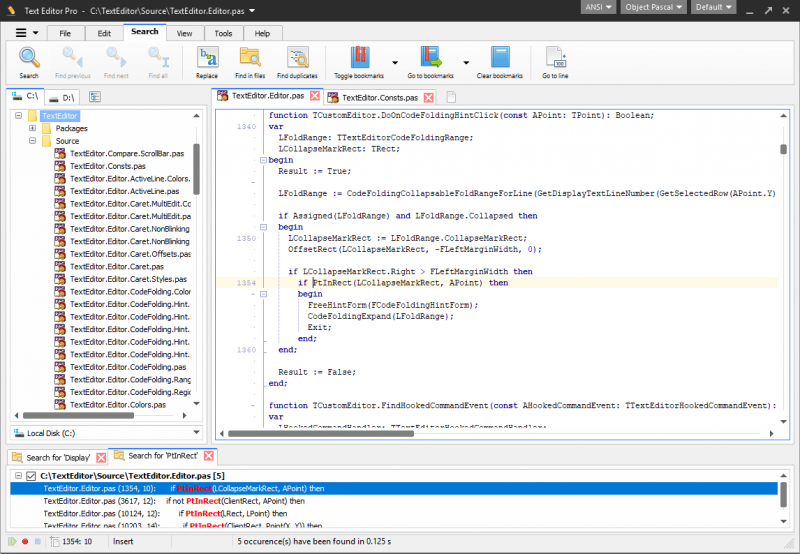 Powerful Editing:
Text Editor Pro allows you to toggle case sensitive, whole words only and regular expression search modes. Another means of locating content is to mark it and then return to it when you need to. For this, you get the option of adding multiple bookmarks throughout the document. When you work on a project and save multiple drafts of it you can can very easily get confused trying to figure out what is different between them. To make it easier for you, the application allows two files to be opened and compared line by line.
Features of Text Editor Pro:
Skin-engine application option
Font skin option
Highlighter for Bash
Highlighter for GDScript
Highlighter for Julia
Magnifier title bar option (default False)
Monokai distilled color theme
Multi-instance application param
Scaling application option (default Auto)
Application closing and startup
Arrows style skin option
Clipboard monitor.
Conclusion:
Text Editor Pro is a simple yet powerful text and code editing tool. It has a graphically impressive interface with widespread support for programming languages.