Free Download Bandicam 5 - Screen recording software, record everything on your computer screen and save as MP4 or AVI video file
Overview of Bandicam 5:
Bandicam is the software that when users need to record the computer screen, they not only support video recording, taking screenshots of the desktop, but Bandicam also supports video game recording Full and not full screen. Especially when you own the Bandicam license, you can experience more unique features. Bandicam can record anything on your computer screen and save as MP4 or AVI video file. Especially through Bandicam video game recording software, you can shoot various 2D / 3D games with 4K UHD video and record videos up to 480 FPS.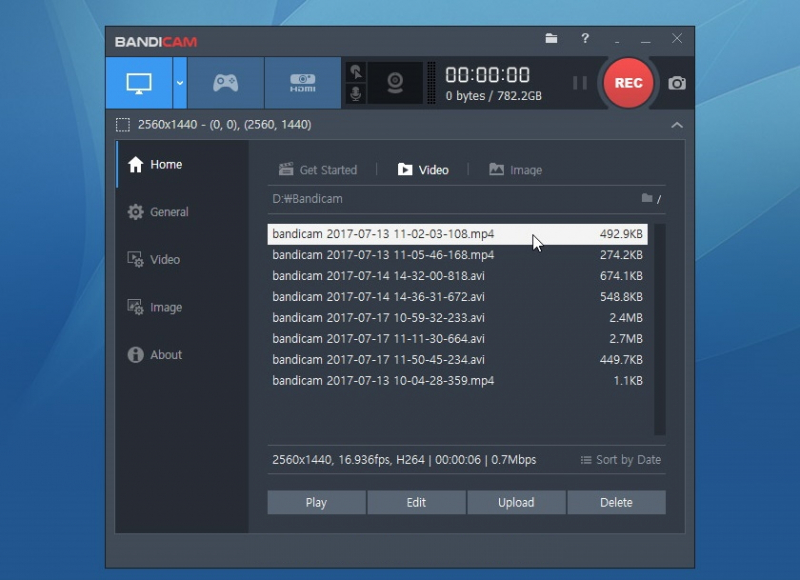 Bandicam is considered as a great solution for recording computer screen video with recording with perfect picture and sound quality, helping you to get video games or instructional videos for a certain purpose. The highlight of the bandicam software is that it consumes very little CPU resources during recording and allows the user to record video in any area on the desktop.
Bandicam helps you to record whatever is happening on your computer screen, allowing you to record gaming videos or presentations, tutorials or record high-quality video chats. The advantage of Bandicam is that it uses state-of-the-art recording and recording technology, creating screen movies with sharp sound and images, using very little CPU resources. For first-time users of the software, you may have trouble shooting video with bandicam, but you just need to watch our guide to bandicam video recording to handle the situation well.
Key features of Bandicam 5
Draw and outline on your video or screenshot in real-time.
Add webcam video of yourself on the video that you are recording.
Start recording at a specific time on a daily/weekly schedule
Record the system audio and your voice at the same time.
Add a mouse click effect and animation while recording.
Make a chroma key video in real-time while recording your computer screen.
You can upload the recorded file to YouTube without converting.
The recorded file size is much smaller than other software.
You can record over 24 hours without stopping.
You can record video at resolutions of up to 2560×1600 in high quality.
You will experience much less lag than with other capture programs.
Outstanding advantages of Bandicam
Bandicam can create videos with high quality but extremely small size. Video length can be up to 24 hours. Video resolution up to 3840x2160. And more specifically, Bandicam supports downloading 720p / 1080p videos to Youtube without converting the format. The software also supports editing videos, setting up video recording modes and schedules.
The latest version of Bandicam has added a number of new points such as: supporting some other formats, adding the function of controlling the size of the position on the screen, increasing the size of the software interface. Improve note function and codec compatibility, add various options for game recording, minimize programs to the system tray.
Bandicam provides screen video recording function to record every activity happening on your computer, record video games to share with friends, create presentations, tutorials or record high-quality video chats. Besides video recording is the ability to capture screen, save photos and videos in other formats such as H.264, MPEG-1, Xvid, MJPEG, MP2, PCM.
Video Demo Bandicam:
System Requirements for Bandicam 5
Supported OS: Windows 7/8/10
Processor: Pentium IV or above
RAM: 1 GB RAM
Free Hard Disk Space: 100 MB or more.