Free Download Boris FX Sapphire Plug-ins 2021 - Latest major upgrade to fully revamped and enhanced VFX plug-in suite, digital art effects
Overview of Boris FX Sapphire Plug-ins 2021:
Sapphire 2021 plug-ins let you create stunning organic looks unmatched by any host native effect tools. Key features include over 270 effects and 3000+ presets, a powerful Effect and Transition Builder, and integrated tracking and masking with the Academy Award-winning Mocha. Sapphire's superior image quality, control, and render speed offers massive time-savings — allowing creatives to focus on what matters most, delivering an impact that keeps audiences coming back.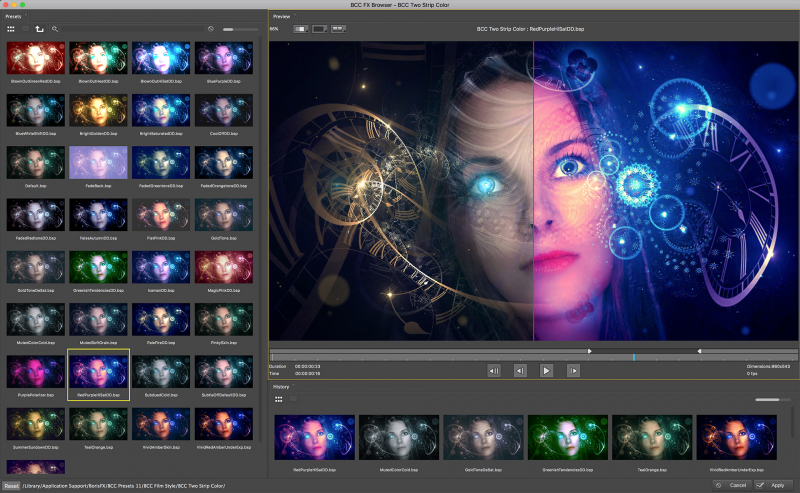 Functions of Boris FX Sapphire
More than 250 effects
Does not depend on resolution
GPU acceleration on NVidia Cuda video card
Multi-processor support Supports 32 bit floating point calculation
Intuitive user interface
Widget on screen interface for many visual effects
Offline HTML and PDF documents
Create unique natural and organic lighting by using rays, glare, flashes, warmth, sparkle, strobe, etc.
Create organic displacement maps and backgrounds using a variety of vignette tools
Choose from many quick blur effects
Stylize and color-correct your video documents with a set of effects FilmEffect, HalfTone, Vignette, BleachBypass and Cartoon
Includes over 1100 types of presets; Your own creation.
New Features in Sapphire 2021:
Metal for Mac OS. Over 60 effects have improved speed from an all new metal implementation
Improved LensFlare Designer:
Lens Flare ability to offset elements off axis.
Reactive speed for elements..
Performance and stability improvements.
Improved Mocha:
Adjust track.
Boris FX GenArts Sapphire Works With:
Adobe After Effects
Adobe Premiere Pro
Avid Media Composer
Autodesk Flame Family
Blackmagic DaVinci Resolve
Blackmagic Fusion
The Foundry NUKE
Vegas Pro Studio
Grass Valley Edius
Silhouette
Baselight
Toon Boom Harmony
Other OFX-compatible hosts
System Requirements for Sapphire
Resolution independent – HD, 2K, Ultra HD, 4K, 8K, etc.
Floating point processing – All effects use full floating point processing for improved image quality and full 32-bit HDR support
64-bit enabled – expanded memory capabilities
Multiprocessor support
GPU acceleration available for NVIDIA cards only. The latest NVIDIA CUDA card and driver is recommended.