Free Download MKVToolnix 55 - Advanced application that enables you to open, examine, edit and mux Matroska files (.mkv)
Overview of MKVToolnix 55:
MKVToolnix is an advanced application that enables you to open, examine, edit and mux Matroska files (.mkv). It offers support for other popular video file types too, along with audio tracks and subtitles. The full package includes separate command-line utilities for merging and extracting streams, viewing information, as well as for editing headers and chapters They are all wrapped up in a graphical interface in the Windows edition.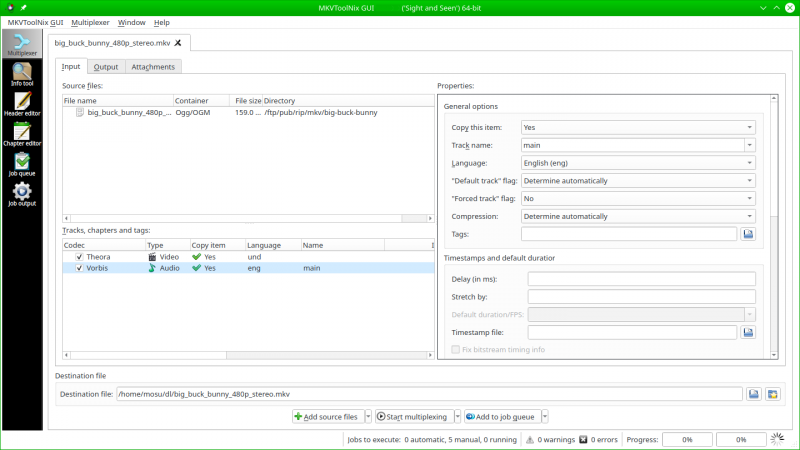 The tool enables you to view, append and take apart tracks, chapters and tags, as well as to edit a wide range of data. For example, when it comes to general track options, you can set the track name, language, default and forced track flags, tags, and timecodes. What's more, you can set the aspect ratio, FPS, delay, stereoscopy mode, cropping, cues, compression mode, and custom command-line parameters for enhanced functionality. External files can be embedded in the movie as attachments.
The tool didn't put a strain on computer performance in our tests, using low CPU and RAM. It carried out tasks in a decent amount of time and didn't trigger the operating system to hang, crash or prompt error messages. Taking into account its wide range of configuration parameters, MKVToolnix should meet the requirements of most expert users looking to study, create, edit and generate MKV files.
Features of MKVToolnix
Support split MKV files to reduce the file size to below 4.3GB.
Can join split files quickly.
Allows customize and manage split files: rename files, tag, select languages ​​...
Compact size, information processing speed quickly and effectively.
Can handle up to 12GB MKV file size.
System Requirements for MKVToolnix
OS: Windows 7/8/10
Free Hard Disk Space: 150 MB or more.