Free Download tinyMediaManager 4 - Media management tool written in Java/Swing. It is written to provide metadata for the Kodi Media Center
Overview of tinyMediaManager 4:
tinyMediaManager is a cross-platform Java-based program designed to help you catalogue your movies, grab artwork, and download comprehensive information about them from online sources. The design looks straightforward and allows you to work with three main categories for handling your collection, namely movies, movie sets and TV shows.
There are many configuration settings hidden under the hood so be prepared to spare some of your time for discovering them. You cannot access a help manual, only a forum which may provide some answers to your questions.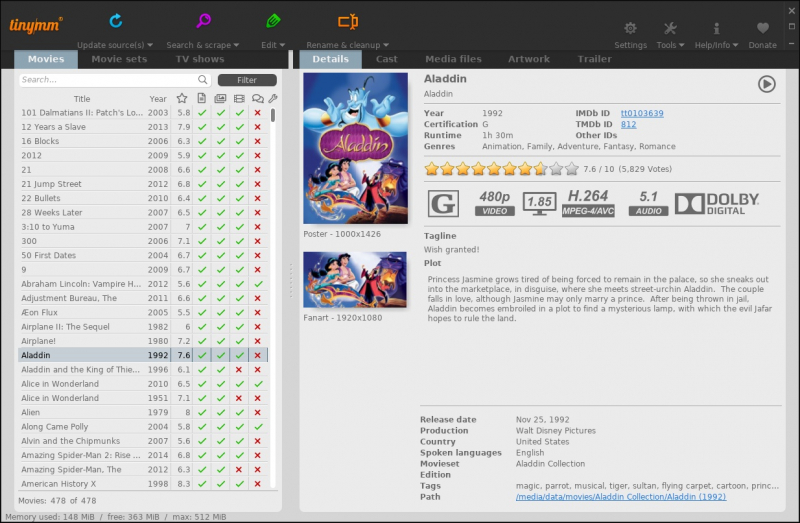 tinyMediaManager is able to download metadata for your movies from various online websites, such as The Movie Database (TMDb), IMDb, OFDb, Zelluloid, and MovieMeter. You can check out details about the original title, genres, runtime, production, spoken languages, plot, crew, cast, media data (e.g. video, audio, subtitles), and media files.
Overview of tinyMediaManager 4 Features
- scrape and edit metadata of movies and TV shows
- get artwork, trailers, and subtitles
- rename your movie files
- advanced search
- create and import NFOs
- extract media information
- create movie sets
- artwork for movies and TV shows
- assign movies
- powerful import engine for TV shows
System Requirements for tinyMediaManager
Operating system: Windows Server 2012, 2012 R2, Windows 8, Windows® 2008 R2, Windows 7, Windows Vista, Windows 2003, Windows XP (x32 and x64*)
Disk space up to 100 MB