Free Download FinalCrypt 6 - Encrypt up to 4 billion files in one go. No need to encrypt files one by one, supporting unlimited file size
Overview of FinalCrypt 6:
FinalCrypt uses symmetric One Time Pad Encryption which is known as the most unbreakable encryption in existence. FinalCrypt's large true random "One Time Pad" (FIPS140-2 & RFC4086 compliant) Keys are mathematically unbreakable. The Shor's algorithm has proven that all asymmetric encryption will instantly be broken by Quantum Computers (or simulators).
Full Disk Encryption doesn't offer much security either, since a virus, spying or indexing software can read all your files in an unlocked drive. FinalCrypt is the only One Time Pad, Bulk File Encryption Software, that is freely available to the public. Let the new graphical user (guidance) interface guide you with ease or use the command line interface to fully automate encryption for large datasets (command-line manpage).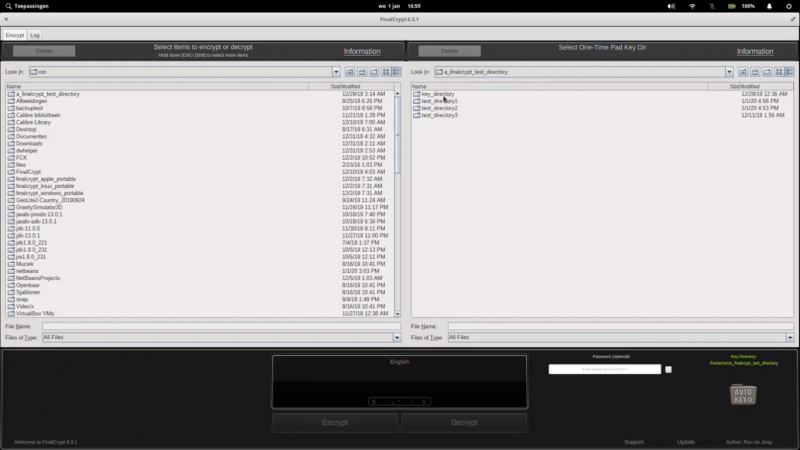 Encrypt up to 4 billion files in one go supporting unlimited file sizes. No need to encrypt files one by one. Select all the files and directories and encrypt or decrypt.FinalCrypt has no restriction in key size creating (GiB/TiB) keys large enough to encircle the earth several times in comparison to traditional encryption keys (only 32 bytes) or passwords. Also FinalCrypt keys have no fixed location and can' t be recognized as keys to prevent detection by key harvesting software.
Features of FinalCrypt 6
Encrypt up to 4 billion files in one go. No need to manually generate keys and encrypt files one by one.
Use Encryption One-Time Pad keys are FIPS140-2 and RFC1750 compliant.
Free to use, Nonprofit and Free Support
FinalCrypt graphical user interface supports 45 languages ​​and also offers a full featured command line interface.
FinalCrypt supports all file sizes your file system supports.
Safe, secure, tested with today's leading anti-virus software.
Specifications and system requirements
Supported Operating Systems: Windows 7/8/10
Processor: Pentium IV and above
RAM: 1 GB RAM (2 GB recommended)
Free hard disk space: 200 MB or more.